Suleiman awards Saudi envoy Lebanese Order of the Cedar Medal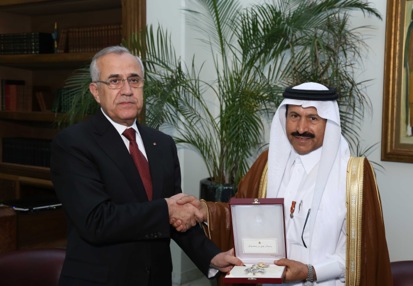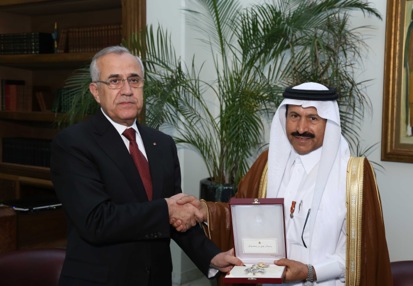 Outgoing President Michel Suleiman awarded   Ambassador of Saudi Arabia Ali Awadh Asiri the Lebanese  Lebanese Order of the Cedar Medal , National News Agency reported on Saturday.
Asiri  received the award in  "appreciation for his endeavors." NNA quoted Suleiman as saying
On his part Asiri voiced hopes  that Lebanon passes to the "shore of safety" by electing a new president, hailing President  Suleiman for all the wise decisions he took during his term.
"I hope that Lebanon passes to the shore of safety and stability by electing a new head of state," said Asiri
From the presidential palace at Baabda Asiri  praised Suleiman , saying: " President Suleiman was the wise ruler whose ultimate interest focused on how to strengthen the country's national unity among the people, and on implementing the constitution."
"We have a great hope in all the leaders and Lebanese figures who have national responsibilities, because Lebanon is worth sacrificing for to remain a symbol of civilization, culture and prosperity just like we know it,"  he added .
Asiri was reportedly very instrumental in securing for the Lebanese army a  $3 billion Saudi Arabian  grant , the largest ever received by the country .