Hifter presenting himself as Libya's savior after 2 years of chaos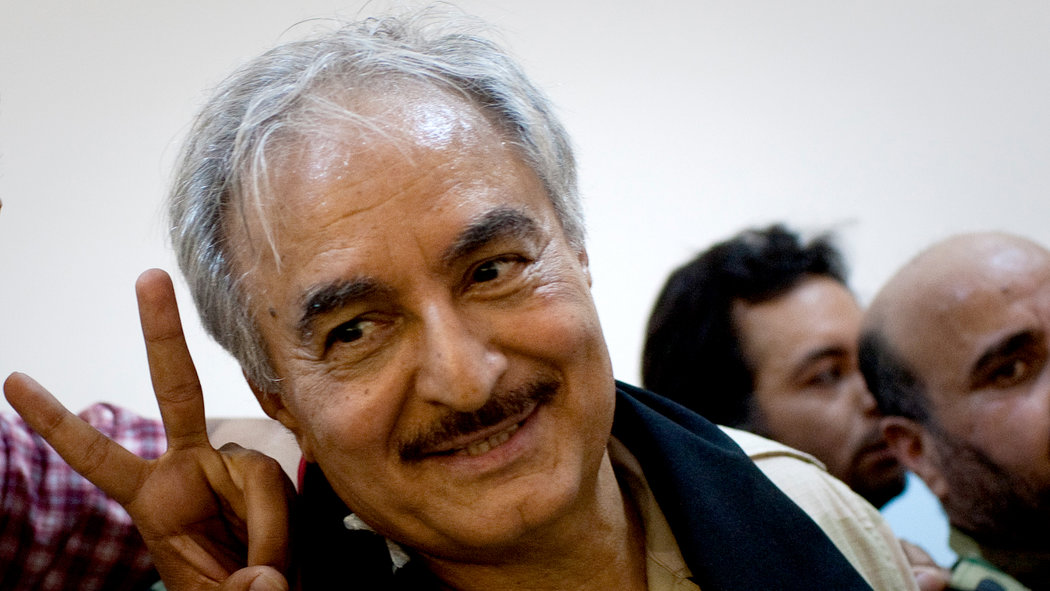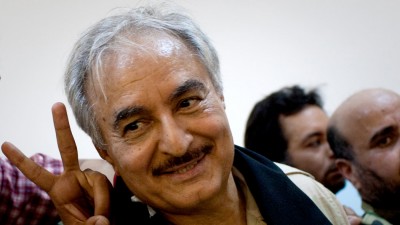 Gen. Khalifa Hifter has been waiting decades for his moment.
A top general under Moammar Gadhafi, he was tainted by a disastrous defeat in a war against neighboring Chad. Exiled in the United States, he helped lead the opposition and vowed to return one day. Since Gadhafi's 2011 ouster he has struggled for a role, distrusted by other generals.
Now his time may have come. He is presenting himself as Libya's potential savior after nearly two years of chaos in which unruly militias are exercising power over elected officials and assassinating dozens of soldiers and police.
In less than a week since Hifter surfaced, supporters flocked to his self-professed campaign to crush Islamist militias and their backers in parliament and to bring stability to the country.
But there are fears his ultimate goal is to make himself into a new Gadhafi, and his democratic credentials are far from established.
"If Hifter wants to put the country on the right path then leave, he is welcome, but if he wants to take over power, we won't accept more coups," said prominent lawyer Abdullah Banoun in Tripoli. "Gadhafi terrorized us for 42 years. The alternative to Gadhafi is a civilian rule, nothing less than that."
Laying out a road map for transitional period, Hifter called for the country's top judicial authorities to form a new presidential council to take over power until holding new parliamentary elections. In a televised statement late Wednesday Hifter appeared in a military uniform and surrounded by military officers accused the current Islamist-dominated parliament of turning Libya to a state "sponsoring terrorism" and a "hideout to terrorists" who infiltrated the joints of the state, wasted its resources and controlled its decision making. He asserted that the military wants the "continuation of political life" and stressed that the new council is a "civilian" one in an apparent attempt to defuse fears of militarizing the state.
Since Friday, Hifter has been leading an armed revolt in perhaps the biggest challenge yet to the country's weak central government and fledgling security forces. He says his campaign, dubbed "Operation Dignity," aims to break the power of Islamists who lead parliament. He accuses the Islamists of fueling Libya's chaos and opening the door to extremism.
On Sunday, Hifter's militia allies stormed and ransacked the parliament building in Tripoli, declaring the body suspended. Two days later, some lawmakers tried to hold a session at an alternative location to vote on a new prime minister, but came under rocket fire, effectively ending the session.
The turn of events from a Gadhafi dictatorship to a civil war to persistent lawlessness has led to the prospect of another military man steering Libya. It calls to mind neighboring Egypt, where a revolution ousted longtime autocratic president Hosni Mubarak and paved the way for free elections – only to have the military oust the unpopular Islamist president and put the army chief in charge.
Hifter, a 70-year-old military officer, helped Gadhafi in his 1969 coup against the Libyan monarchy by taking control over Tripoli's Matiga airbase, according to his son. He then rose through the ranks of the Libyan army until he was named the military chief, and led Libyan forces alongside Egyptian forces in the 1973 Arab war against Israel.
But Libya's disastrous defeat in its decade-long war in Chad did not help Hifter's reputation.
"The war was a scandal," Libyan historian Fathi al-Fadhali told The Associated Press, noting that thousands of Libyan soldiers were killed, wounded or captured. Hifter "is the worst military leader Libya has known," he said. "He didn't have a plan – even a withdrawal plan."
Hifter was among those captured, and he defected from the Gadhafi regime in 1987 as the war ended. He then became the commander of the armed wing of an opposition group, the Libyan National Salvation Front, and orchestrated a couple of failed coup attempts against Gadhafi. He later broke with the group.
In interviews with Arab media in the 1990s, he described himself as building an armed force with U.S. assistance to "eliminate" Gadhafi and his associates.
His nearly 20-year exile in the United States raised questions about his alleged association with the CIA. A 1996 Congressional Research Service report suggested that the United States provided money and training to the National Salvation Front.
In Washington, State Department spokeswoman Jen Psaki said the U.S. has had no recent contact with Hifter.
"We do not condone or support the actions on the ground, and nor have we assisted with these actions," she told reporters Tuesday, urging dialogue among Libya's different factions. Psaki said no decision had been made regarding U.S. personnel in Libya, an issue of utmost sensitivity given the deadly 2012 attack on the U.S. diplomatic outpost in the eastern city of Benghazi.
Upon his return to Libya with the beginning of the anti-Gadhafi uprising, Hifter served under the command of Abdel-Fattah Younis, who was assassinated – allegedly by Islamist extremists. After the war, Hifter disappeared from the public for most of the last two years, but his name kept floating as a potential defense minister.
Little is still known about the forces Hifter managed to harness in preparation for his offensive.
His military campaign began Friday with bombings targeting Islamic militia camps in Benghazi and an assault by allied militias on parliament in Tripoli.
His spokesman, Col. Mohammed Hegazy, said Hifter's forces have carried out 11 airstrikes targeting mainly three neighborhoods known to house Islamic militants on the outskirts of Benghazi, and expected to take over the whole city.
Supporters have been flocking to Hifter from all directions – including a host of anti-Islamist politicians, the commander of the air force and Libya's Interior Ministry, which is employing militia fighters in the offensive.
Predictably, there's been a strong backlash from rival militias.
Libya's navy chief Brig. Gen. Hassan Abu-Shanaq, some of whose units have allied with Hifter, was wounded in an assassination attempt in Tripoli early Wednesday. The night before, the air force headquarters in Tripoli came under rocket attack.
In a further boost for Hifter, Libya's U.N. envoy, Ambassador Ibrahim al-Dabashi, announced his support Wednesday.
He backed Hifter's demands for the suspension of parliament and for the transfer of all powers to a caretaker government, and he called for Libya to be purged of militias. He urged Hifter and his loyalists not to interfere in politics but to restrict themselves to building cohesive military forces.
The general's campaign is "not a coup," the ambassador said, "but a nationalist move."
Time