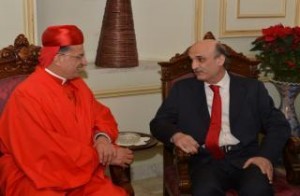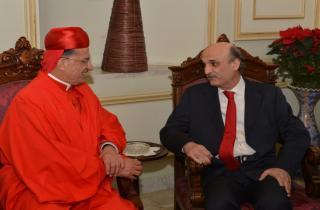 Patriarch Beshara al-Rai, the spiritual leader of the Christian Maronite community urged the parliament on Wednesday to rise to the level of the expectations of the Lebanese people through electing a new president, considering that closing the door of the Baabda presidential palace is a "shame."
"I urge the parliament to rise to the level of the expectations of the Lebanese people and preserve the dignity of Lebanon through electing a new president," Rai was quoted as saying during an interview on Future television.
"And if the door of the presidential palace closes, it will be a shame and a huge failure by the parliament," he stressed.
The patriarch praised Michel Suleiman's "patience and wisdom in leading the country to safety."
"(Suleiman) preserved the dignity of the presidency despite all difficulties," he said.
"I thank him with all my heart for what he has offered Lebanon in these 6 years." He added
Suleiman's term ends on May 25 and so far the parliament failed to elect his replacement
According to Bkirki sources the top 4 Maronite leaders( FPM leader Michel Aoun, Marada leader Suleiman Franjieh, Phalange party leader Amin Gemayel and Lebanese Forces leader Samir Geagea ) agreed last March to facilitate the election of the president .
After Geagea secured 48 votes last April 23, the Hezbollah led March 8 alliance including Aoun and Franjieh walked out from the parliament to make sure there was no quorum to elect a president. They continued their boycott of the parliament during the 3 other sessions that followed .
Both Aoun and Franjieh said they will also boycott Thursday's session
Aoun has not announced his candidacy but he aspires to become a consensual nominee and has reportedly been begging the Future Movement to back him , but so far the movement is sticking with Geagea
This error message is only visible to WordPress admins
Error: No connected account.
Please go to the Instagram Feed settings page to connect an account.