Ex-General Claims Responsibility for Libyan Parliament Attack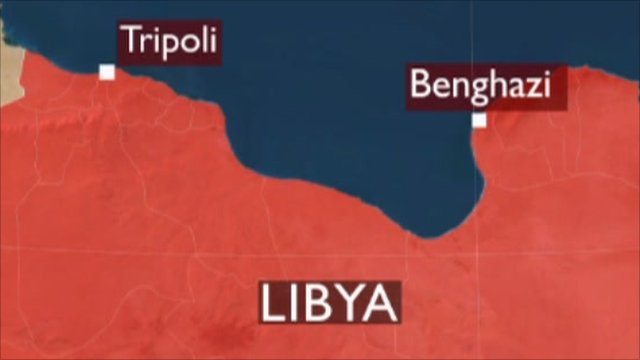 A retired Libyan general claimed responsibility for an attack on the Parliament building here on Sunday, two days after his irregular force launched an attack aimed at eradicating powerful Islamist militias from the eastern city of Benghazi.
Militia members using antiaircraft weapons, rocket-propelled grenades and light arms engaged Sunday in some of the heaviest clashes in months here in the capital, killing two people and wounding 60, according to hospital officials cited by The Associated Press.
The fighters' affiliation was unclear, but militias from Zintan, southwest of Tripoli, claimed responsibility on social media, calling Parliament "the main backer of terrorism in Libya."
Mohamed el-Hejazi, a spokesman for Khalifa Heftar, the retired general, claimed in an interview that the fighters from Zintan had been acting on the general's orders.
He said: "They are not militias. They are units loyal to the Libyan National Army," referring to a self-declared force loyal to Mr. Heftar and consisting of some army and air force units. Mr. Heftar's large-scale assault on Islamist militias in Benghazi last week stunned even Libyans who had become accustomed to the country's episodic violence.
The extent of support for Mr. Heftar remained unclear. His sudden rise to prominence in the past few days has injected a volatile new element into Libya's chaotic transition since the fall of Col. Muammar el-Qaddafi in 2011. The spike in violence has deepened the perception among Libya's neighbors that the country, awash with weapons, saddled with a weak central government and dominated by armed groups that act above the law, is a central source of regional instability.
It was not clear whether Sunday's fighting in Tripoli, which spread to various parts of the city, was an extension of Mr. Heftar's campaign against Islamists, as his spokesman asserted, or an unrelated outbreak of violence among Libya's constantly feuding militias.
Later on Sunday, an officer claiming to speak for the National Army asserted on television that Parliament would suspend its work.
It is not the first time Mr. Heftar, who defected from Colonel Qaddafi's military in the 1980s, has tried to claim a leadership role. After returning from the United States, where he fled after defecting, Mr. Heftar participated in the uprising against Colonel Qaddafi and tried, unsuccessfully, to install himself as the head of the rebel forces.
In February, Mr. Heftar went on television and declared, in the name of the "national leadership" of the army, a "road map" to save the country. The announcement appeared inspired by events in Egypt, where the military ousted the elected president last July. In Libya, though, nothing happened, and Mr. Heftar was widely ridiculed.
By Friday, though, Mr. Heftar appeared to have rallied enough support to lead columns of armored vehicles against the bases of several Islamist militias. Many Libyans blame the militias for lawlessness in the country's east, including assassinations of former and current government officials. Calling his assault Operation Karama — or Dignity, in Arabic — Mr. Heftar appeared to draw support from some people angered by the central government's failure to confront the armed groups.
More than 70 people have been killed in Benghazi since Friday, officials said.
There were unconfirmed reports late Sunday that militias from the coastal city of Misurata, who are fierce rivals of the Zintan militias, were preparing to defend the government in Tripoli, raising the specter of further civil strife.
NY Times