Syrian rebels detonate massive tunnel bomb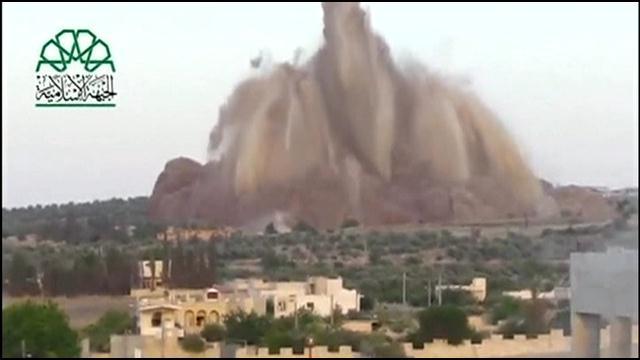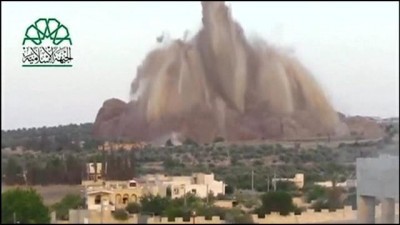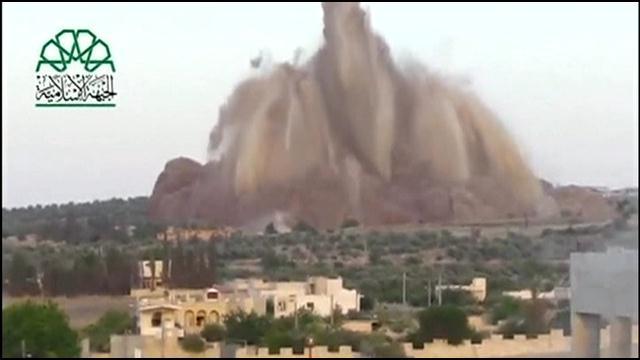 Rebels in Syria say they dug a tunnel under a military base, filled it with 132,000 pounds of explosives, and blew it up.
An amateur video released by the Islamic Front, a coalition of seven rebel groups, showed debris flying meters up in the air as parts of the base exploded.
The rebel groups had been trying to capture the Wadi Deif army base for more than a year. The tunnel took about seven months to build.
The rebels claim that dozens of soldiers were killed but the Syrian government did not comment on the attack.
Aactivist, Mohammed Kanaan, who is from the nearby town of Maaret al-Numan but is currently in Turkey, said the tunnel was about 800 to 900 meters deep and filled with locally made explosives.
Kanaan also said the tunnel attack was carried out by the Suqour al-Sham, an Idlib-based group that is part of the Islamic Front.
Meanwhile, on Friday, Syria's state news agency says a rocket attack killed 13 people in the northern city of Aleppo.
SANA says Friday's attack also wounded 17 people in the city's northern neighborhood of Achrafieh.
The agency said the attack was carried out by "terrorists," the term the government uses to refer to rebels trying to overthrow President Bashar Assad.
It said the shells also damaged two houses in the area.
The attack came a day after similar shelling on the neighborhood killed three people and wounded 20.
Rocket attacks are common on residential neighborhood around Syria. The rockets can be wildly inaccurate.
Activists say Syria's 3-year-old conflict has killed more than 150,000 people. More than 2.5 million people have fled Syria to neighboring countries, while millions more are displaced within it.
Fox/AP