Suleiman holds a mini dialogue session in Baabda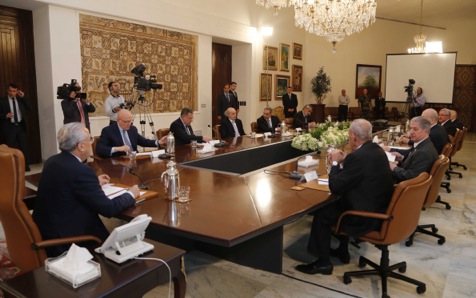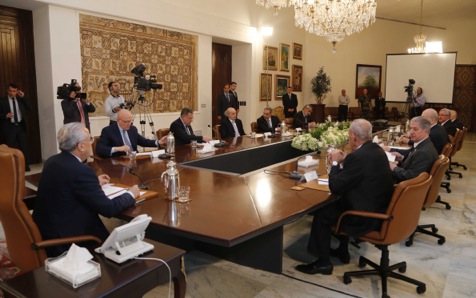 Lebanese President Michel Suleiman chaired a dialogue session at the presidential palace in Baabda that was boycotted by some political parties.
The meeting was attended by Progressive Socialist Party leader MP Walid Jumblatt, Speaker Nabih Berri, Future Movement bloc leader MP Fouad Siniora, Prime Minister Tammam Salam, Phalange Party leader Amin Gemayel and other figures.
However, it was boycotted by Hezbollah and its allies the Syrian Socialist National Party , the Marada Movement and the Democratic Party.
The Lebanese Forces party did not attend the session, which the party figures have repeatedly said would not yield to any result.
Also, Free Patriotic Movement leader MP Michel Aoun called president Suleiman and apologized for not attending the session for personal reasons.
The closing statement of the dialogue session called for keeping the all-party talks as a way to avoid conflicts and for continued talks on the defense strategy and stressed the importance of the implementation of the Taef accord.
Hezbollah's ties with Suleiman reached their lowest point earlier this year when the president blamed the party for hindering the birth of the government's policy statement.
Suleiman's criticism drew a sharp response from Hezbollah.
Progressive Socialist Party chief MP Walid Jumblatt hailed the president after the session, telling reporters at Baabda Palace that he is completely unbiased president who succeeded in overcoming difficult periods and produced fundamental policies.
"President Michel Suleiman succeeded through his cold nerves and patriotism in traversing the most critical of periods, confronting convulsions and affirming that there is no way out of dialogue," Jumblatt said.
"History will do justice to this man who was not biased toward any team."
Jumblatt also lauded Suleiman for rejecting the extension of his term.