Ukraine PM heads to Odessa after bloodshed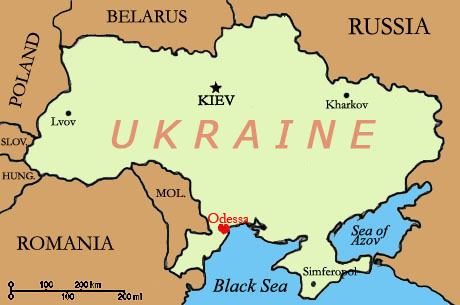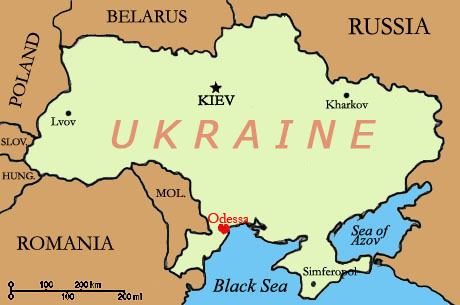 Ukraine released 67 people Sunday who were detained for participating in violent clashes after pro-Russian protesters stormed a police station in Odessa, demanding they be let go.
"Based on the decision taken by Odessa's regional prosecutor's office and due to the demands of the protesters, 67 people previously detained for participating in mass disturbances on May 2nd in Odessa were released Sunday," said a statement on the Ukrainian Interior Ministry's website.
Earlier, hundreds of pro-Russian activists attacked the police station in Odessa, forcing open its gate and breaking windows as they called for the release of their detained comrades. In a tense scene filled with arguments but with no shots fired, the separatists raised the Russian flag at the station and convinced the officers to release the detainees, according to a CNN team on the ground.
The move came as Ukrainian Prime Minister Arseniy Yatsenyuk visited the Black Sea port city, two days after a street battle between Russian supporters and opponents ended in a deadly blaze that killed at least 40 people.
Yatsenyuk was holding meetings with social, political, cultural and economic leaders from the region, his office said. A minute's silence was held at the start of the meeting for those who died in Friday's bloodshed, the worst so far in a region that has seen spiraling violence.
Speaking to reporters, the prime minister called for unity as he accused those "sponsored by Russian Special Services" for the unrest in the eastern part of his country. He also said that in the last 24 hours there had been a "very active re-location of the troops from Russia to Crimea" — which Moscow annexed in March — but he did not provide details.
The violence in eastern Ukraine pits pro-Russian separatists against Ukrainian forces and those who support the new Western-backed government in Kiev. It has escalated into a diplomatic crisis, with Russia demanding an end to what it called Ukrainian aggression and Western powers accusing Moscow of funding the violence.
"The process of dialogue had begun, only it was drowned out by the shots from Russian-made Kalashnikovs," Yatsenyuk said, accusing those behind the unrest in the east of "trying to split our people by history, culture, language, ideology, territory … We can only win through a dialogue and unity."
Seeking to reassure a local population that has grown increasingly weary of the new leaders in Kiev, Yatsenyuk also talked about decentralizing power locally as well as providing guarantees, potentially in the constitution, for minority languages. Many in the east are Russian speakers.
"We need to preserve the country, Odessa and each human life, this is our common duty," he said.
Friday's riot in Odessa, which ended in a fire in a besieged trade union building, was by far the worst incident in Ukraine since a February uprising that ended with a pro-Russian president fleeing the country.
Forty-six people died in the bloodshed, a representative for the prosecutor's office told CNN. Six were killed in the clashes, the remainder in the fire. Of those, 32 people died due to smoke inhalation, while eight were killed trying to jump out of the burning building.
Odessa, a vibrant multi-ethnic port city, has seen some support for separatists, but nothing like the riots that erupted on Friday. Ukraine's security service blamed the unrest in the city on "provocateurs."
Video posted on YouTube appeared to show supporters of Kiev's government throwing Molotov cocktails at the building where pro-Russian separatists had reportedly taken up positions. The footage, which CNN could not independently confirm, showed people sitting on ledges trying to escape the fire and thick smoke.
Military action
On Saturday, a team of international military observers seized by pro-Russian separatists in eastern Ukraine was freed, as Kiev resumed military action to tackle the pro-Moscow gunmen who have overrun the region.
Residents in Kramatorsk, which is some 16 kilometers (10 miles) south of the flashpoint city Slavyansk, reported hearing gunfire, as Ukraine's embattled new leaders launched their most intensive effort yet to try to dislodge the rebels who have reportedly seized government buildings in nearly a dozen cities and towns.
A CNN team on the outskirts of Kramatorsk saw troop carriers moving toward the city center on Saturday. Amateur video posted online — the authenticity of which could not be confirmed by CNN — showed burned buses, plumes of smoke and residents calmly observing it all.
Saturday's release of the monitors from the Organization for Security and Cooperation in Europe resolves a major diplomatic issue for the West. Separatists had abducted the eight European observers in Slavyansk on April 25 and held them hostage.
However, in another challenge to Kiev, separatist leader Valeriy Bolotov in Luhansk declared a state of emergency and announced the formation of a "South-East" army for the entire region.
In a video statement aired on local stations, Bolotov also introduced a curfew, a ban on political parties, and his expectation that local law enforcement officials will take an oath of allegiance to the people of Luhansk.
In Donetsk, separatists say they are preparing their own referendum on May 11, to ask residents whether they want sovereignty from Ukraine — an echo of events that led to Moscow wresting Crimea from Kiev.
Denis Pushilin, the self-declared chairman of the Donetsk People's Republic, told CNN the question to feature on the ballot paper would read: "Do you support the act of state sovereignty of the Donetsk Republic?" to which voters can respond with "Yes" or "No." He said enough ballot papers had already been printed to hold the vote.
Separatists, many of them of Russian descent, believe the government in Kiev is illegitimate, since it formed after what they call the illegal ousting of pro-Moscow President Viktor Yanukovych in February. Officials in Kiev accuse Moscow of meddling with by supporting the separatists.
NATO has estimated up to 40,000 Russian troops are now near the border with Ukraine, which has made not just Kiev's government but other neighboring nations wary of invasion.
Russia and the West squared off diplomatically over the fate of Ukraine after Moscow annexed the Black Sea peninsula of Crimea in March following a hastily called referendum and Yanukovych's ouster. He was pushed from office after months of protests by people upset that he had turned away from Europe in favor of Moscow.
Russia has condemned Kiev's military action in the volatile east.
In a phone call Saturday with U.S. Secretary of State John Kerry, Russian Foreign Minister Sergey Lavrov said: "(The) punitive operation in the southeastern Ukraine plunges the country into fratricidal conflict."
Dmitry Peskov, Russian President Vladimir Putin's spokesman, said Russia's government had received thousands of calls since Friday from people in southeastern Ukraine. The callers described the situation as "horrendous" and pleaded for Russia's involvement. "Most of the people literally demand active help from Russia," he said.
CNN