Rai's Jerusalem visit branded as 'historic sin' by pro-Hezbollah media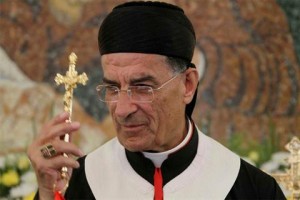 BEIRUT, Lebanon – A visit to Jerusalem by the patriarch of the Lebanon-based Maronite church to greet Pope Francis was branded as a "historic sin," a leading newspaper closely associated with Hezbollah said Saturday.
Patriarch Beshara Bourtros al-Rai, whose church is the largest Christian denomination in Lebanon, told AFP on Friday he would travel to the Holy Land to welcome the pontiff during his brief May 24-26 visit.
In doing so, he would be the first patriarch to do so since the creation in 1948 of Israel, with which Lebanon is technically at war.
In response, the pro Hezbollah daily As-Safir ran a critical piece headlined "Historic sin: Rai goes to Israel."
Calling it a "dangerous precedent," the daily argued that the trip would "not serve the interests of Lebanon and the Lebanese, nor those of Palestine and the Palestinians nor Christians and Christianity."
It speculated on whether the patriarch, who is also a Roman Catholic cardinal, "would shake hands with Israeli leaders who will be in the front row to welcome Pope Francis to Jerusalem."
Even if he does not, he would still have to coordinate his trip with Israeli officials, the paper added, claiming that the visit "is part of the normalization between the head of the Catholic church and the occupier."
Al-Akhbar, another newspaper closely linked to Hezbollah, said a group of Lebanese politicians will try to dissuade Rai "from visiting Jerusalem as long as it is under Israeli occupation, which would signify a normalization with the occupier."
Lebanese citizens are banned from entering Israel, but Maronite clergy may travel to the Holy Land to take care of the estimated 10,000 faithful there.
Rai insisted that the trip will be strictly religious and has no political significance.
Media urged not to misinterpret Rai's visit

The Head of the Catholic Media Center, Priest Abdo Abou Kasm, called on all media organizations not to misinterpret the visit Maronite Patriarch Beshara Boutros al-Rai is scheduled to make to the Holy Land later in May.
"The media must deal with this subject with a high level of objectivity and steer clear of speculation that distorts the visit's pastoral character," Abou Kasm said on Saturday.
"Talks of normalization [with Israel] and other published analyses are out of place and untrue," he added in reference to several media reports that labeled the Cardinal's visit a "historic sin."
"Rai will not meet with any Israeli official."
"He is expected [though] to meet with the head of the Palestinian Authority, Mahmoud Abbas, upon the latter's official invitation," the Catholic media official explained.
AFP/NOW/YL