Palestinian prisoners smuggling sperms… defying Israeli control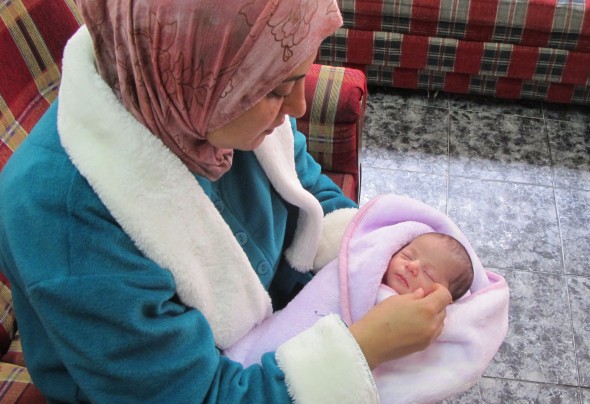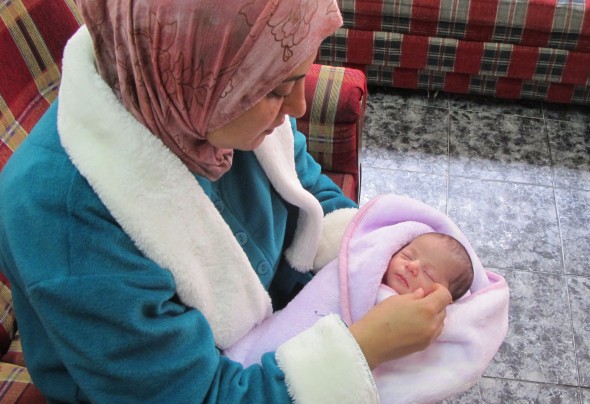 ASKAR REFUGEE CAMP, West Bank — Suad Abu Fayed and her husband have had no physical contact for more than 11 years. That is how long he has been in an Israeli prison.
And yet on a recent day, Abu Fayed cradled the couple's 9-day-old baby, Hurriyah — a daughter whose birth earned her a place in an unusual but growing group: infants conceived over the past two years by in vitro fertilization, using sperm from Palestinian prisoners that has been smuggled out of Israeli jails.
The aim of the clandestine process, those involved say, is two-pronged: to help prisoners' wives have children while their husbands are behind bars and to chip away at one facet of Israel's control over Palestinian life.
Hurriyah's father, Samir Abu Fayed, 37, is serving an 18-year sentence for involvement in terrorist activities. He is a member of the Al-Aqsa Martyrs Brigades, the armed wing of the Palestinian political movement Fatah, according to his brother. Israel does not allow conjugal visits to Palestinian security prisoners, and carefully screened relatives can meet with them only through glass dividers.
But young children are allowed brief physical interaction with their fathers, and that is how Hurriyah, whose name means freedom in Arabic, came to be. Abu Fayed's sperm was secretly slipped to one of the couple's three older children — born before he was imprisoned — during a visit at the Nafha prison in southern Israel, said Suad Abu Fayed, 34. It was immediately transported to the Razan Medical Center in Nablus, which specializes in the IVF treatment that led to her pregnancy.
"I know it won't be easy raising a baby with a husband in jail, but this is our way of breaking Israel's siege on us," she said, referring to the Israeli occupation of the West Bank. "We are challenging [Israel's] occupation and getting something beautiful in return."
Israeli prison authority spokesperson Sivan Weitzman said Israel is aware of the growing phenomenon, and she acknowledged that little could be done to stop it.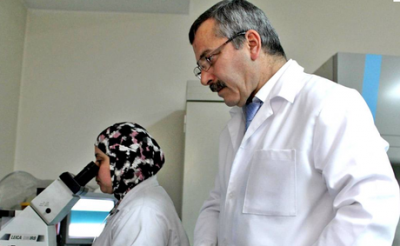 "We have caught some prisoners attempting to smuggle sperm out, and as a consequence we have increased our searches of prisoner's cells and of their visitors," she said, adding that Israel has no way of proving that the prisoners are biologically linked to the babies.
The subject of prisoners is central to Palestinian society. Palestinians view those who are locked up as freedom fighters and heroes resisting Israel's occupation of the West Bank and blockade of the Gaza Strip. Their families are not only revered but also receive monthly financial support from the Palestinian Authority. Israel, meanwhile, sees them as terrorists with Israeli blood on their hands.
"This is a great injustice," Meir Indor, head of the Israeli terror victims' association Almagor, said of the births. "Those who were murdered by these terrorists will never get to marry, they will never live their lives, while those who commit the murders are in a situation where they can always start a new life."
The prisoners issue is considered one of the main sticking points in getting Israelis and Palestinians to even discuss possibilities of peace. This month, U.S.-led peace talks sputtered after nine months when Israel, angered by unilateral Palestinian steps toward greater recognition by the United Nations, reneged on its commitment to release a group of prisoners jailed before the 1993 Oslo Accords.
Israel suspended the talks last month after Fatah announced a unity government with a rival Palestinian party, Hamas, which the United States and Israel consider a terrorist organization.
According to data published by the Addameer Palestinian prisoner association and based on figures collected by Israeli human rights organization B'Tselem, about 5,000 Palestinians are serving security sentences handed down by Israeli military courts. A 2012 study by the Palestinian prime minister's office suggested that about 800,000 Palestinian men — nearly 20 percent of the population of the West Bank and Gaza — have spent a week or more in an Israeli jail since 1967.
"Palestinian prisoners inside Israeli jail face a true challenge," said Palestinian prisoners minister Issa Qaraka. He said that smuggling out sperm to enable prisoners' wives to get pregnant sends a "strong message that the prisoners still think about life while they are in jail."
Former prisoner Esmat Mansour, who served 20 years for his role in the murder of an Israeli citizen and was released in August, said prisoners often talked about having children while inside.
"The prisoners always discussed how to do it and now, even if [Israel] tries to stop it, it will continue to happen," he said.
Semen, if healthy, can remain viable for up to 12 hours outside the body, said Salem Abu Khaizaran, a physician who is president of the Razan clinic, which has carried out the majority of IVF treatments for prisoner's wives.
He said smuggled sperm has arrived at his clinic hidden in all sorts of creative ways — inside medicine containers, the barrels of pens, candy wrappers, chocolate bars and even in the tip of a rubber glove inside a mush of dates. Once at the clinic, the sperm is frozen until the woman ovulates.
The first baby conceived by this process was born in August 2012. Today, about 15 women in the West Bank have successfully given birth in this way and another 15 women are pregnant, Khaizaran said. In Gaza, where another clinic performs IVF, one woman has given birth and local news media have reported that another six women are expecting babies in the coming months.
Khaizaran said that because of the stigma Palestinian wives might face in their conservative society for becoming pregnant without their husbands present, any sperm brought to his clinic must be authenticated by two relatives of the woman and two of the man. All must sign a document saying the sample is from her husband.
"We have worked to raise awareness in Palestinian society and to get the religious authorities to issue a fatwa declaring it acceptable," Khaizaran said.
IVF treatment in the West Bank usually costs between $2,000 and $3,000, but Khaizaran said he offers it free to prisoners' wives for "humanitarian reasons."
"People do not pay much attention to the suffering of the wives," he said. "We saw so many Palestinian prisoners, some of them newly married, who were sent to prison for a long time, and by the time they came out of prison, their wives were too old to have babies."
This way, he said, life can go on for the wives even while their husbands are in jail.
Indor, the Israeli victims' advocate, said the families of Israeli victims feel pained every time the news media report on the birth of a Palestinian prisoner's baby.
"Palestinian prisoners get to study, eat well and take advantage of the system, and an absurd saga comes about whereby new life is created," he said.
At the Askar camp, Suad Abu Fayed said she has peaceful hopes for Hurriyah's future.
"I want to send her to private school so she can become a lawyer and defend our prisoners," she said. "I really hope that her life will be better and more enjoyable than the life we have now."
Washington Post