Al Jazeera journalists denied bail in Egypt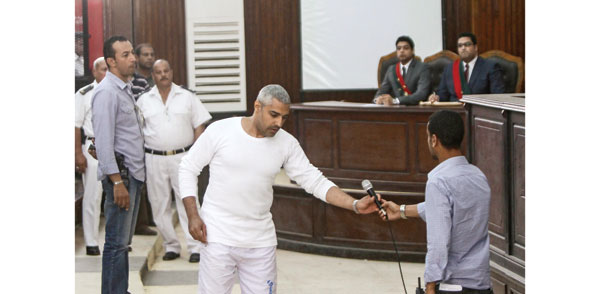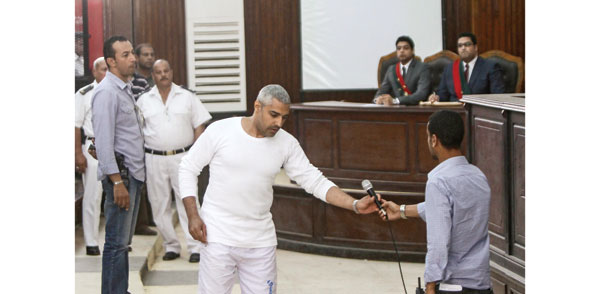 Cairo, Egypt- The judge trying three Al Jazeera journalists in Egypt wished them a happy World Press Freedom Day before refusing them bail and adjourning their case until May 15.
In a brief session yesterday, one of the trio, Al Jazeera English's Cairo bureau chief, Mohamed Fahmy, was allowed to leave the defendants' cage to explain to the judge the nature of journalism. The judge, Mohamed Nagy, then adjourned proceedings because Fahmy's lawyer had failed to turn up due to a private emergency.
Fahmy, the Australian ex-BBC journalist Peter Greste and a local producer, Baher Mohamed, have been in jail since late December, and stand accused of creating false news, smearing Egypt's reputation, and aiding terrorists.
They are charged alongside five students with connections to the banned Muslim Brotherhood, and prosecutors have tried to show that Al Jazeera is part of a pro-Brotherhood conspiracy.
But Fahmy, a Canadian-Egyptian former CNN journalist, told the judge that it was normal for journalists to have contacts on all sides of the political spectrum — including both supporters of the ousted president, Mohamed Mursi, and their liberal opponents, as well as members of Egypt's military establishment.
"I have great relations with state security, with the army and the intelligence," said Fahmy. "That's normal, that's journalism, that's my job."
Later Fahmy told journalists: "I feel like the court is starting to understand what we do for a living." This seventh session of the trio's trial fell on World Press Freedom Day, celebrating the rights of journalists.
The Guardian
Photo: Al Jazeera English Cairo bureau chief Mohamed Fahmy (left) is given a microphone after being allowed to leave the defendant's cage to speak to Egyptian judge Mohamed Nagy Shehata (unseen) during the trial yesterday in the police institute near Cairo's Turah prison.