Assad to run for president in Syria's June 3 vote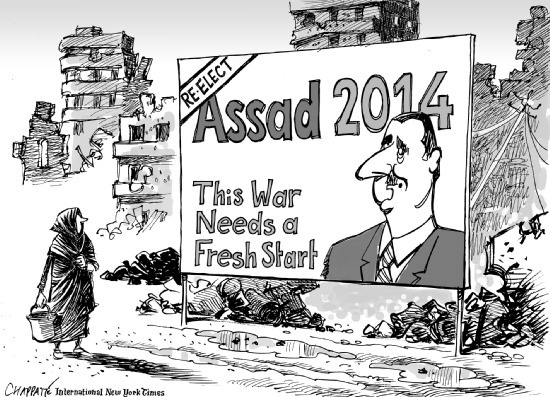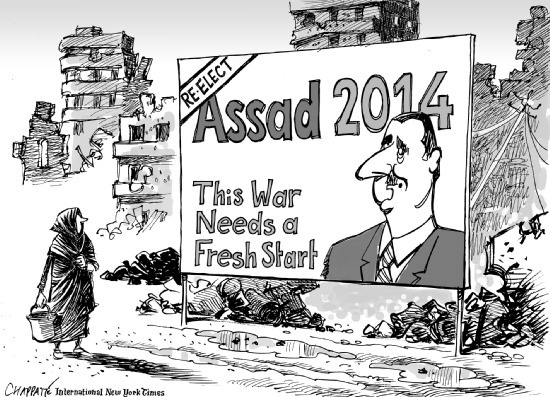 , presidentialBeirut, Lebanon — President Bashar Assad announced his candidacy for the June 3 presidential elections on Monday, a race he is likely to win amid a raging civil war that initially began as an uprising against his rule.
The statement, made by Parliament Speaker Jihad Laham on state-run television, was quickly followed by broadcasts of nationalistic music praising God.
Assad — who has ruled the country since taking over from his father in 2000 — was widely expected to run for a third seven-year term in office, although it remains unclear how the vote can take place in areas engulfed in fighting.
Six other contenders are in the race, but they are mostly expected to give the election a veneer of legitimacy, analysts say.
Following the announcement, the state-run TV also ran a brief biography of Assad, quoting him as asking Syrians not to resort to celebratory gunfire and telling them that "we are now in the atmosphere of (democratic) elections in Syria for the first time in its contemporary history." It was unclear if that was meant as acknowledgement that previous elections were not democratic.
But a call to elections — or the vote, if and when it's held — won't be enough to heal Syria's bitter war, now in its fourth year, said activists.
The conflict, which has killed over 150,000 people and displaced more than one-third of the population, began as largely peaceful demonstrations against Assad's rule in March 2011. But it quickly turned into an armed uprising and a civl war.
"If he (Assad) had announced this at the beginning of the revolution, it would have saved all that blood that was shed," said activist who uses the name Abu Akram al-Shami, speaking over Skype from Damascus.
Al-Shami said he and other activists would ignore the election, adding that their war now wasn't just against Assad but for his entire government to fall.
"It's about the whole regime. Even if, let's say, he (Assad) left office, as things now stand his regime would continue," al-Shami said.
Eligibility to vote
Syrians who fled their war-torn country via unofficial border crossings will be barred from voting in next month's presidential elections, the country's electoral commission chief said on Monday.
"Syrians who left Syria illegally do not have the right to vote in host countries," Hisham Shaar was quoted as saying by pro-regime newspaper Al-Watan on Monday.
Some 88 percent of registered Syrian refugees in Lebanon — now home to more than a million people who fled Syria's brutal war — entered the country via official crossings, according to the UN.
However, most of those who fled to Turkey and Iraq did not go through government-controlled crossings.
Shaar said: "Electoral law authorises Syrians who reside abroad legally to vote."
"Syrian territory is open to all Syrian citizens who wish to exercise their right to vote, especially those living in neighbouring countries," he added.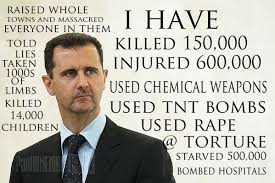 Syria's opposition and the West have slammed the June 3 vote as a "farce" and a "parody".
Time/AFP