Watchdog says Syria must destroy toxic chemicals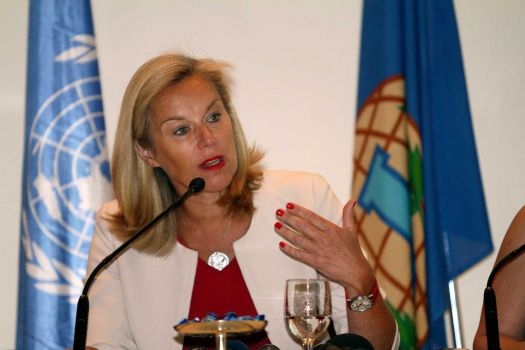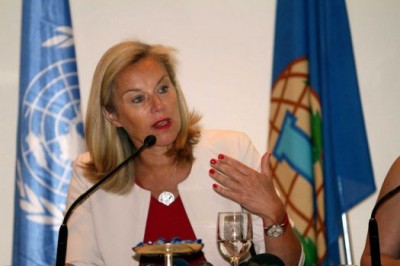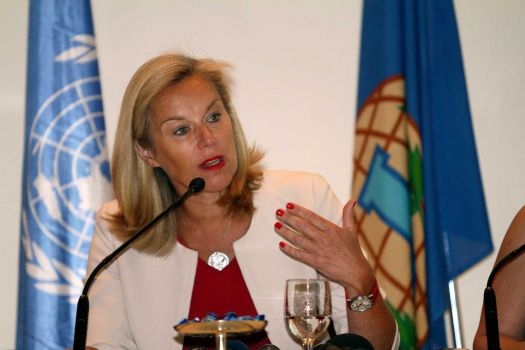 The head of an international mission to Syria charged with destroying the country's chemical weapons called on President Bashar Assad's government Sunday to ensure it meets a deadline to destroy all its toxic chemicals.
Also Sunday, four more candidates announced their candidacy for Syria's upcoming June presidential election, state television announced, a poll Assad is expected to win.
Sigrid Kaag of the Organization for the Prohibition of Chemical Weapons told reporters in Damascus that 92.5 percent of Syria's chemical materials had been removed from the country and destroyed. She described it as "significant progress," though she says the government needs to ensure the remaining materials are eradicated by the end of the month.
"I strongly encourage (the Syrian government) to go for that last push that we can really talk of hundred percent removal and destruction," Kaag said.
Syria missed an April 13 deadline to destroy all its chemical weapons in accessible locations. International experts say that could have serious impact on making a June 30 deadline for the removal of all its chemical weapons.
"An important (achievement) has been made in permanently closing down production facilities," Kaag said, adding it came in "a very short period of time and under difficult and challenging security conditions."
However, experts have not had access to 12 chemical weapons production facilities yet, Kaag also said. She gave two reasons for the importance of a timely removal of the toxic chemicals amid raging civil war, pitting Assad's forces against rebels trying to oust him from power. Armed opposition groups also include the al-Qaida-linked Nusra Front and other radical Islamists militants who have become increasingly influential on the opposition side.
"One of them is to make sure that none of the chemical weapons material falls in the wrong hands," Kaag said. Also, fighting in areas where sensitive sites are located could rapidly deteriorate, making a "timely and swift extraction even more" important, Kaag said.
Syrian government officials did not immediately comment on Kaag's remarks.
The international community aims to remove and destroy 1,300 metric tons of chemicals Syria stockpiled to turn into poison gas and nerve agents.
The effort was sparked by an Aug. 21 chemical weapons attack near Damascus that killed hundreds of people. The attacks were blamed on Assad's government and brought the United States to the brink of military intervention in Syria. Damascus denied involvement.
In recent weeks, activists accused government forces of attacking rebel-held areas with poisonous chlorine gas, leaving men, women and children coughing, choking and gasping for breath, according to Associated Press interviews with more than a dozen activists, medics and residents on the opposition side.
Syria flatly denied the allegations, and they have yet to be confirmed by any foreign country or international organization. But if true, they highlight the limitations of the global effort to rid Syria of toxic material.
Meanwhile, Sawsan Omar Haddad, a 51-year-old engineer from the coastal province of Latakia, became the first woman to register as a candidate in Syria's upcoming June 3 presidential election. In a live broadcast from the parliament Sunday, speaker Jihad Laham said Haddad registered her candidacy a day earlier.
Along with Haddad, three more candidates registered, the speaker said, bringing the total number of presidential hopefuls so far to six.
Assad has suggested he would seek a third, seven-year term, though he has not announced his candidacy yet.
The three other candidates are: Samir Ahmed Moalla, a 43-year professor of international law from the southern province of Quinetra; Mohammad Firas Rajjouh, 48, from Damascus; and Abdul-Salam Salameh, 43, from the central province of Homs.
According to a new election law, the balloting must be contested by more than one candidate. Analysts said they expected at least one candidate to run against Assad to give the election a veneer of legitimacy.
Syrian opposition figures and Western leaders have blasted the decision to hold presidential elections amid the country's 3-year-old conflict, which activists say has killed more than 150,000 people and driven a third of the country's population from their homes.
The Syrian Foreign Ministry has rejected the criticism, saying the decision to hold presidential elections was a "sovereign one." It warned that "no foreign power will be allowed to intervene" in the process.
Business Week
Photo: Sigrid Kaag of the Organization for the Prohibition of Chemical Weapons (OPCW)speaks during a press conference in Damascus, Syria on Sunday, April 27, 2014. Kaag told reporters in Damascus that 92.5 percent of Syria's chemical materials had been removed from the country and destroyed. She described it as "significant progress," though she says the government needs to ensure the remaining materials are eradicated by the end of the month. (AP/Photo)