George Clooney gets engaged to Lebanese lawyer Amal Alamuddin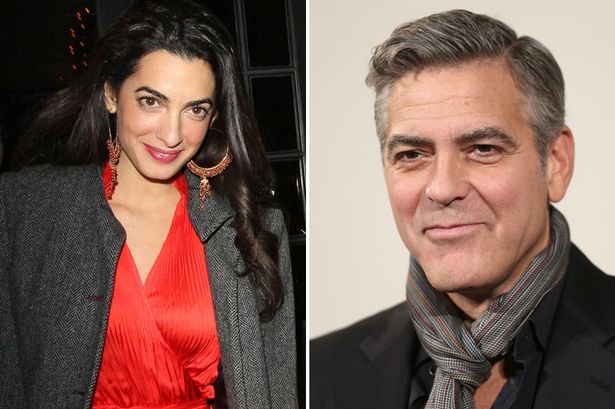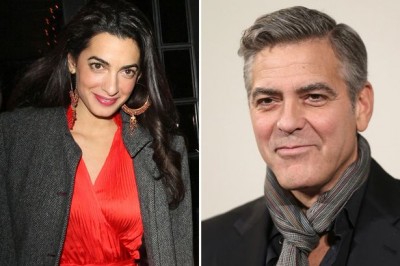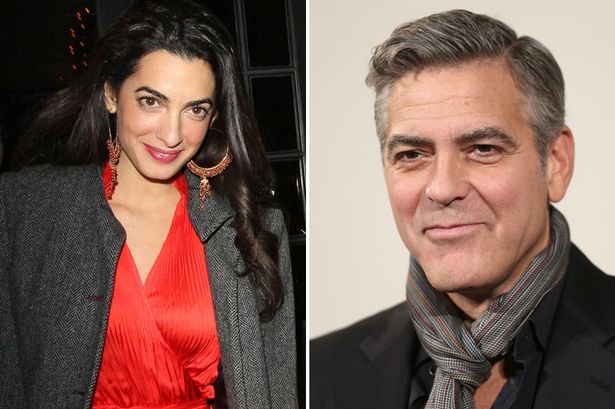 Lebanese Human Rights Lawyer Amal Alamuddin, 36, reportedly is engaged to American Hollywood film actor and two-time Academy Award winner (acting and producing) George Clooney, 52.
Alamuddin was born in Beirut, Lebanon of Druze parents. Both Clooney and Alamuddin are human rights activists and reportedly met last year while working on working on a surveillance satellite program involving the use of killer drones during conflicts in many countries.
Alamuddin studied at St Hugh's College, Oxford. She graduated from New York University of Law in 2011 and she specializes in International Law. She works with the prestigious internationally recognized Civil Rights law firm of Doughty Street Chambers in London, England.
As a human rights lawyer, Alamuddin has represented Wikileaks founder Julian Assange, and served as a legal adviser to the Government and King of Bahrain, Hamad bin Isa al Khalifa, during an special probe into the circumstances of the Arab Spring in 2011 in that country.
She worked as a legal adviser to former UN Secretary General Kofi Annan, the special envoy to Syria. She is the co- editor with lawyers David Tolbert and Nidal Jurdi of the 2013 book entitled The Law and Practice of the Special Tribunal for Lebanon, published by Oxford University Press.
In February, Alamuddin joined Clooney at a special White House screening of the actor's new film The Monument's Men. Clooney was accompanied by Bill Murray, Grant Heslov and Matt Damon. Clooney hosted a major fundraiser for President Barack Obama in 2012, while Damon has distanced himself from the president who he supported but now says he is "disillusioned" by Obama's failures as president.Much is known about Clooney, the film director, producer, screenwriter and recipient of three Golden Globe Awards for his work, starred in several films about the Middle East and Arab world. They includeThree Kings,(1999), where he played an American US Army Special Forces soldiers during the first War against Iraq, when he gets involved in a gold heist, stealing money from the besieged country. He also starred in Syriana, (2005), playing a CIA agent in the fictional political film about Middle East oil, politics, Lebanon, Hezbollah and the conflict there. He produced Argo, the fact-based story about several American Embassy employees who were able to escape during the Iranian siege of the US Embassy. Clooney won Oscars for Syriana and for Argo. Clooney also starred in many other films including most recently the movie blockbuster Gravity and The Monuments Men.
Her formal Bio is published online at her law firm
Amal Alamuddin is a barrister specialising in international law, human rights, extradition and criminal law. She has represented clients in cases before the International Criminal Court, the International Court of Justice and the European Court of Human Rights, as well as in domestic courts in the UK and US.
Amal also provides advice to governments and individuals on international law, and has been appointed to a number of UN commissions including as adviser to Special Envoy Kofi Annan on Syria, and as Counsel to the Inquiry launched by UN human rights rapporteur Ben Emmerson QC into the use of drones in counter-terrorism operations.
Amal is fluent in French and Arabic and has particular expertise in international criminal law and the Middle East region.
Her cases have included many appearances before the International Criminal Court (ICC). She defended Libyan dictator Moamar Gaddafi's former intelligence chief Abdallah Al Senussi at the ICC in 2011 following the fall of Libya. Alamuddin was a member of the team that investigated and prosecuted four suspects charged in the murder of former Lebanese Prime Minister Rafiq Hariri at the Special Tribunal for Lebanon before the ICC. And, she worked as a judicial assistant in the ICC Prosecution of former Yugoslav Head of State Slobodan Milosevic.
Professor M. Cherif Bassiouni is one of the foremost authorities on international criminal, human rights and humanitarian law. He obtained an LLB from the University of Cairo, a JD from Indiana University, an LLM from John Marshall Law School and an SJD from George Washington University. Until 2009, Professor Bassiouni was a Distinguished Research Professor at DePaul University College of Law, an institution where he spent thirty-five years. Professor Bassiouni is well-published, having authored a number of works including some of the leading textbooks in international criminal law. During his career, Professor Bassiouni has also held a number of United Nations positions. Notably, this included the position of Chair for the Drafting Committee at the Diplomatic Conference on the Establishment of an International Criminal Court. He also served as the Chair for the Drafting Committee on the 1985 United Nations Basic Principles of Justice for Victims of Crime and Abuse of Powers. Bassiouni has previous experience working on Commissions of Inquiry. Alamuddin worked with renown Chicago international legal scholar and DePaul Professor of Law M. Cherif Bassiouni, who headed the government established Independent Commission of Inquiry looking into civil rights violations by the government of Bahrain during the 2011 Arab Spring protests in that country. She represented the Bahrainian monarch. She worked on a British Commission exploring evidence of sexual crimes in conflict zones and in the first exploration of abuses by the Egyptian judicial system under deposed tyrant Husni Mubarak also during the 2011 Arab Spring. She also has served as Counsel to the Inquiry led by UN Special Rapporteur Ben Emmerson QC into the use of drones in counter-terrorism operations in Pakistan, Yemen, Somalia, Afghanistan and the Occupied Palestinian Territories.
Most recently, Bassiouni chaired the United Nations Independent International Commission of Inquiry for Libya (2011). He was also involved in commissions investigating the human rights situation in Afghanistan between 2004 and 2006, and violations of international humanitarian law in the Former Yugoslavia in 1993.
The only real criticism of Alamuddin has come from a few b-list pro-Israel anti-Muslim haters who attacked Alamuddin as being anti-Israeli and pro-Palestinian because of her work for civil rights. It's a common facetious claim against anyone who fights for civil rights, especially in the Middle East.
Arab Daily News