Armenian president accuses Turkey of genocide denial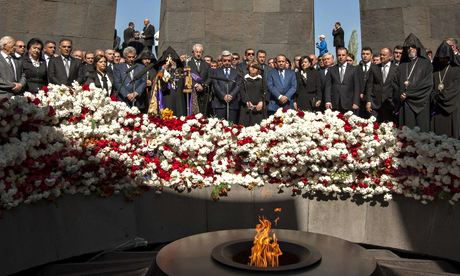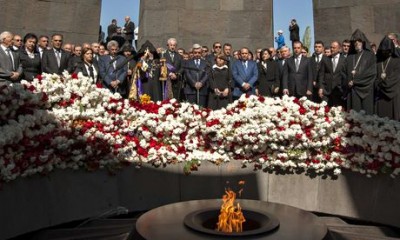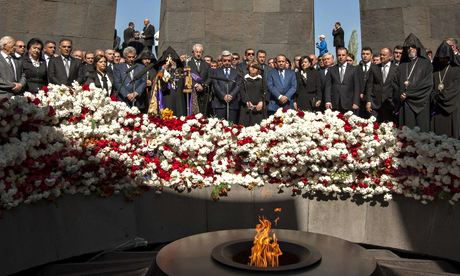 Armenia's president has accused Turkey of an "utter denial" in failing to recognise the mass killings of Armenians in the Ottoman empire during the first world war as genocide.
On Wednesday the Turkish prime minister, Recep Tayyip Erdogan, offered condolences over the massacres, calling them "our shared pain". The US hailed the move as historic.
But in a statement on Thursday marking the 99th anniversary of the start of the killings and mass deportations, President Serzh Sarkisian made no acknowledgement of Erdogan's statement and instead accused Turkey of continuing to ignore the facts.
"The Armenian genocide … is alive as far as the successor of the Ottoman Turkey continues its policy of utter denial," he said. "The denial of a crime constitutes the direct continuation of that very crime. Only recognition and condemnation can prevent the repetition of such crimes in the future."
He said the looming 100th anniversary offered "Turkey a good chance to repent and to set aside the historical stigma in case if they make efforts to set free their state's future from this heavy burden". He stressed that the events of 1915 "should not prevent Turks and Armenians from establishing compassion and mutually humane attitudes towards one another".
The US state department spokeswoman Jen Psaki said Washington welcomed Erdogan's "historic public acknowledgement of the suffering that Armenians experienced in 1915".
Thursday was a day of national mourning in Armenia. Requiem masses were held in churches across the country marking the anniversary. All national television channels ran live broadcasts of an annual ceremony in which thousands of Armenians flock to a hilltop memorial above Yerevan to lay flowers at an eternal flame.
"I came here for the first time with my father when I was a five-year-old, today I came here with my grandson and he knows what we expect from the world and from Turkey," said Narine Balayan, 58, a resident of Yerevan. "I do hope that when he comes here with his grandchildren all problems with Turkey will be resolved."
Commemorations also took place in Istanbul, but on a far smaller scale, gathering a few hundred people. A group calling itself The Platform for the Commemoration of 24 April's Armenian Genocide organised a rally on the steps of Haydarpasa train station, from where the first Armenians were deported on 24 April 1915.
The group carried black and white photos of deportees and a banner that read "We commemorate the victims of Armenian genocide: some wounds do not heal with time".
Another demonstration was to be held later in Taksim Square, which was the scene of mass anti-government protests in June.
Traditionally, thousands of members of the Armenian diaspora arrive in Yerevan to take part in the ceremony. This year saw many from Syria – descendants of those who fled Ottoman persecution in 1915 – return to the ancestral homeland. Sarkisian said the fate of Armenians in Syria was "our open wound and the issue of our primary concern".
On Wednesday, young activists of the nationalist Dashnaktsutyun party burned Turkish flags and led a 15,000-strong torch-lit procession in Yerevan. They held placards that read "Recognition-Condemnation-Compensation" and "Turkey still hides behind lies". One of Dashnaktsutyun's leaders, Kiro Manoyan, denounced Erdogan's statement as an "attempt to deceive us and the world".
Erdogan acknowledged that the events of 1915 had "inhumane consequences" but also said it was "inadmissible" for them to be used as an excuse today for hostility against Turkey. Using both diplomatic levers and its influential diaspora abroad, Armenia has long sought international recognition of the massacres as genocide. More than 20 countries have given such recognition.
Armenians say up to 1.5 million people were killed during the first world war as the Ottoman empire was falling apart, a claim supported by several other countries. Turkey argues that 300,000 – 500,000 Armenians and at least as many Turks died when Armenians rose up against their Ottoman rulers siding with invading Russian troops.
The Guardian
Photo: Armenian officials lay flowers at a monument to those killed by Ottoman Turks during the first world war. Photograph: Karen Minasyan/AFP/Getty Images