Syrian Government airstrikes in north kill 25: Activists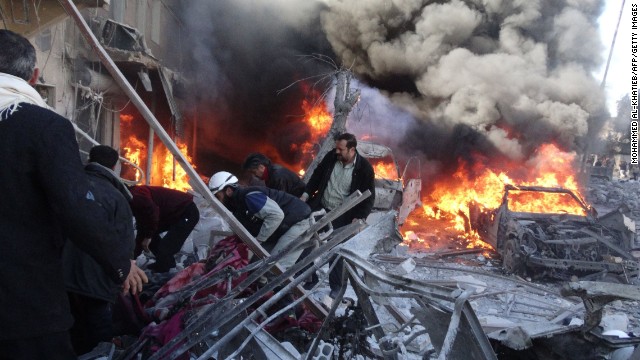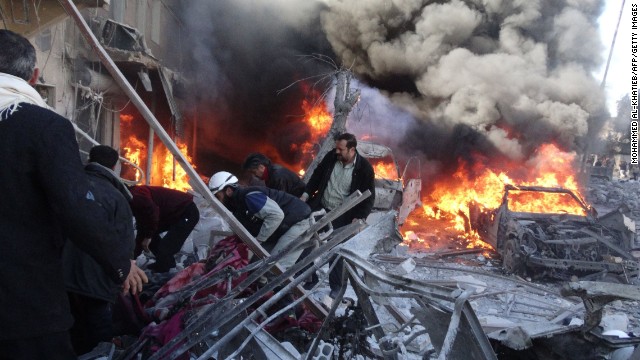 Syrian government airstrikes struck a vegetable market in a northern rebel-held town Thursday, killing at least 25 people and wounding scores of others, opposition activists said.
The airstrikes came as another Syrian lawmaker announced his candidacy for June presidential election, state media said, a poll embattled President Bashar Assad is expected to win.
Fighter jets hit the crowded market in the Aleppo province town of Atareb early Thursday morning, killing 25 people, the Britain-based Syrian Observatory for Human Rights said. The group, which documents the Syrian conflict through a network of activists on the ground, said the death toll is likely to rise because many of the victims were seriously wounded.
Another activist group, the Syria-based Local Coordination Committees, said the airstrikes killed 24 people. The Aleppo Media Center activist group said the strikes killed more than 20. The discrepancy in the death toll is not unusual in the immediate aftermath of such large attacks and could not be immediately reconciled.
Atareb is located near the city of Aleppo, Syria's largest urban center, its former commercial hub and a major battleground in the civil war.
The Syrian conflict began in March 2011 as largely peaceful protests against Assad's rule. It turned into a civil war after some opposition supporters took up arms to fight a brutal government crackdown. The fighting has taken increasingly sectarian overtones, pitting predominantly Sunni Muslim rebels against Assad's government that is dominated by Alawites, a sect in Shiite Islam.
More than 150,000 people have been killed so far, activists say, and millions have been driven out of their homes.
Meanwhile Thursday, Hassan bin Abdullah al-Nouri, a 54-year-old lawmaker and a former minister, became the second candidate to register his bid for the presidency, officials said. A day earlier, a lawmaker from Aleppo announced his candidacy for the June 3 vote.
Al-Nouri was educated in the U.S. and hails from a Sunni Muslim family in Damascus. He previously served in Assad's government as a state minister for administrative and parliamentary affairs.
Assad has suggested he would seek a third, seven-year term, though he has not announced his candidacy yet.
According to a new election law, the balloting must be contested by more than one candidate. Several candidates are expected to run against Assad to give the election a veneer of legitimacy after being dismissed by the West as a farce.
Also in Damascus, a spokesman for the United Nations agency that helps Palestinian refugees in the Middle East said that aid workers resumed food distribution inside the Damascus camp of Yarmouk after 15 days of being prevented from entering the area. Chris Gunnes said UNRWA aid workers distributed 300 food parcels to desperate residents Thursday.
A day earlier, U.N. Secretary-General Ban Ki-moon said neither side in the war has implemented a U.N. resolution demanding that the opposition and the Syrian government promptly allow access for humanitarian aid. Almost 3.5 million civilians in Syria have almost no access to desperately needed humanitarian aid and people are dying needlessly every day, Ban said.
Washington Post