Apple spikes 8% on earnings beat, 7-for-1 stock split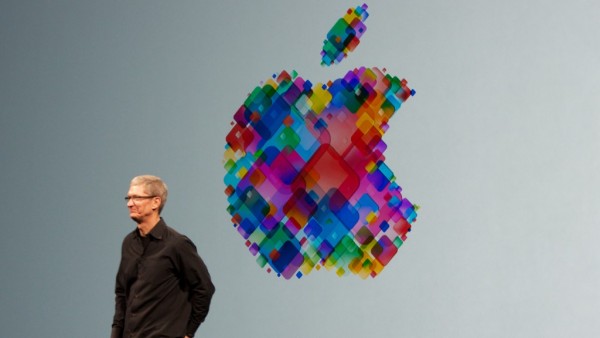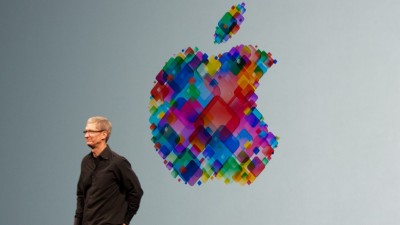 Apple posted quarterly earnings and revenue that topped estimates Wednesday and announced a 7-for-1 stock split, fueling the stock higher after a temporary halt.
The company posted earnings of $11.62 a share, on revenue of $45.6 billion, blowing past estimates for $10.18 a share on $43.53 billion in revenue, according to a consensus estimate from Thomson Reuters.
Apple also authorized a 7-for-1 stock split, addressing calls to share more of its cash hoard. The board also approved a dividend increase of approximately 8 percent to $3.29 a share. The company additionally said it would boost the overall size of its capital return program to more than $130 billion by the end of 2015, up from its previous $100 billion plan.
"It's a company that's trying to please Wall Street," Max Wolff, chief economist and strategist at Citizen VC told CNBC's "Closing Bell." "It didn't used to have to. Now it does. I think it's a huge milestone that they've realized they do and they're throwing meat on that. I don't know how transformative it is."
Meanwhile, billionaire investor took to Twitter to express his satisfaction regarding Apple's buyback and results.
The upsized buyback and dividend won't be coming out of the repatriation of foreign cash though. Apple plans to tap the credit markets once again — at home and abroad — after selling $17 billion worth of bonds last May in its first debt offering in nearly 20 years.
"We're confident in Apple's future and see tremendous value in Apple's stock," Cook said in the announcement," so we're continuing to allocate the majority of our program to share repurchases." Considering the stock was at about $600 when Apple first launched its capital return program in 2012 and subsequently topped $700, he certainly can't be accused of buying at the top.
As for Apple's actual business, Wednesday's second-quarter results came in ahead of expectations on the bottom line, with profits of $10.2 billion, or $11.62 per share, on $45.6 billion in revenue. That was against Wall Street's consensus call for earnings of $10.14 per share. Apple sold 43.7 million iPhones during the quarter, which marked a 17% increase from a year ago, but only 16.4 million iPads, 16% fewer than a year ago.
Shares of Apple rallied 7.8% to $565.65 in after-hours trading following the earnings release Wednesday. That would put split-adjusted shares at just over $80 a piece, a level that might be more approachable for the so-called "mom and pop" investor, but could also draw the attention of the index committee that decides the makeup of the price-weighted Dow Jones industrial average. That 30-stock gauge has kept Apple at arms length for years because its lofty price would skew the measure without a change to its formula.
CNBC