Boy dies as Syrian regime carries out 'gas attack' on rebels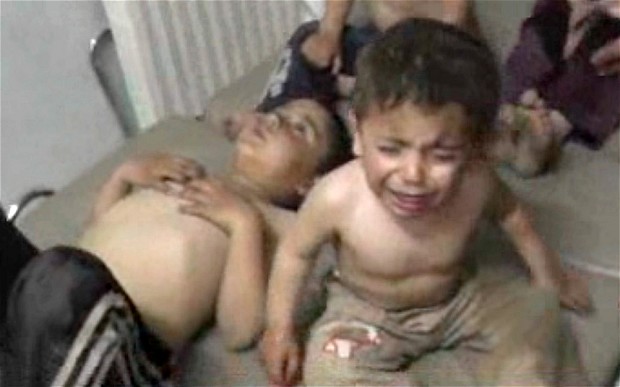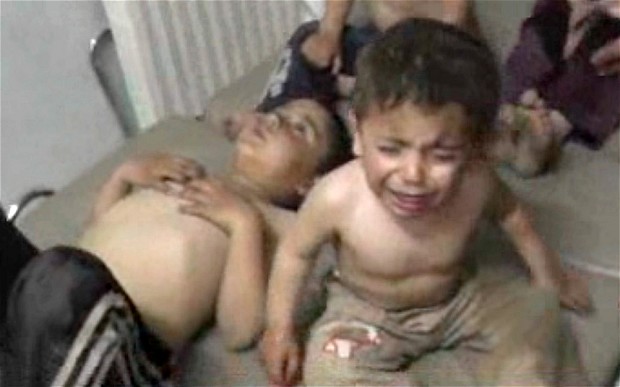 Syria gas attacks raise fears Assad regime is continuing to rely on chemical weapons against rebels despite UN disarmament.

Syria's regime has widened its campaign of gas attacks with an assault on a rebel-held town that reportedly killed a child on Tuesday, as diplomats warned that Damascus may withhold part of its chemical weapons arsenal from the UN destruction programme.
A boy evacuated to a hospital near the Turkish border died in the clinic where several adults were also treated for the effects of contamination.
British officials said the repeated used of chemicals in bombs in recent days compounded fears that President Bashar al-Assad was withholding chemical weapons for use against the opposition.
Victims of the latest apparent chlorine bomb attack in Telminnes, Idlib province, were shown gasping for breath and displaying acute poisoning symptoms at opposition-run clinics in the town and at the Turkish border.
Footage of another boy showed the victim choking and shaking as doctors tried to remove the contamination. More footage uploaded to YouTube by several opposition groups showed men, women and children being treated in a field hospital.
Telminnes lies 20 miles northeast of Kafr Zita, the site of the first attack on April 11, where rebels and government forces have been in a fierce battle for control of a strategic road into Hama city.
The attack was at least the seventh incident in which poison gas was used on the Syrian frontline since April 11 and came as allegations emerged that ammonia bombs have also been dropped by regime helicopters.
Western governments have scrambled for proof that the Assad regime is breaching its promise not to use chemicals as a weapon of war.
France said it has "indications" of chemicals in its possession while US officials said that only the regime is capable of dropping concentrated chlorine gas on the battlefield.
"We are examining allegations that the government was responsible," said Jen Psaki, a US state department spokesman. "Obviously there needs to be an investigation of what's happened here."
Whitehall officials expressed frustration that inspectors charged with removing Syria's stockpile of weapons under the terms of last year's UN agreement could not act on the reports until proof of the attacks was definitive.
"The conundrum we find ourselves in is that you can't ask for investigations until you accumulate and present evidence," said one official. "Even if everything that Assad declared is taken out of the country by the [UN], given the recent incidents it is now mind-boggling to believe that the regime has given up its chemical weapons.
"Anyone who has seen those videos must fear the regime is withholding weapons for future use."
Amy Smithson, a leading American chemical weapons expert at the Monterey Institute, said Syria must face renewed scrutiny over its military's chemical capabilities.
"Once the Syrian government gets the remainder of the declared chemicals out, pressure should mount for Syria to revise its declaration again, to cough up the remainder of their offensive chemical programme," she said.
A Foreign Office spokesman said the government would seek a new investigation of the attacks. "The regime's history of developing a [chemical weapons] programme, lying about it, and using it to horrific effect, means that we cannot take their denials at face value," she said. "These recent reports of use again call into question the regime's commitment to comply with its obligations and to dismantle its programme."
Although chlorine and ammonia are industrial chemicals that are not classified as chemical warfare agents, the use of the materials as a poison gas on the battlefield is outlawed.
Damascus has accused rebels of using chemicals in the northwest towns were the poison gas attacks have taken place. But analysts who have examined unexploded barrel bombs, packed with canisters that bear the painted markings of chlorine and ammonia, point the finger at the regime.
Activists have retrieved the distinctive blue detonator cord that is used in Syrian army assembled barrel bombs, the improvised devices that are pushed from helicopters over cities to devastating effect.
The International Committee of the Red Cross (ICRC) condemned the effect of barrel bombs on the northern city of Aleppo, saying it was "appalled by a sharp escalation of violence in the northern city of Aleppo where parties have in recent days carried out indiscriminate attacks against civilians."
Boris Michel, ICRC's delegation head in Syria, said the violence was "unacceptable" and had led to hundreds of civilian casualties.
Meanwhile the first posters of President Assad's campaign for election to a new seven year term as president were plastered across major cities, including parts of Homs under government control.
The United Nations condemned the election announcement, warning it would undermine efforts to broker a negotiated peace.
"Such elections are incompatible with the letter and spirit of the Geneva communique," UN spokesman Stephane Dujarric said, referring to a 2012 agreement on a transition to democracy.
A government barrage on the centre of Homs, once dubbed "the capital of the revolution" against Assad, intensified as the regime sought to finally crush the rebel-held enclave in the city centre.
Telegraph
Photo: A child cries as he sits on a bed with others in Kfar Zita hospital following an alleged gas attack in the town