Hamas, PLO agree on ending internal division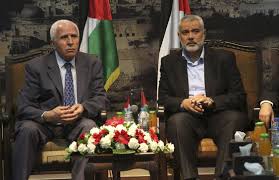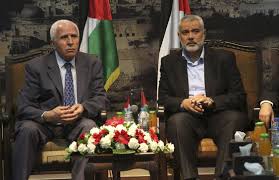 The Islamic Hamas movement and the Palestine Liberation Organization (PLO) agreed on Tuesday night to implement agreements and understandings to end about eight years of internal division.
A PLO delegation headed by Azzam al-Ahmed, a member of Palestinian President Mahmoud Abbas' Fatah Party, arrived in the Gaza Strip earlier on Tuesday to meet with Hamas leaders on implementing their reconciliation deals and understandings.
It was the first time since Hamas' violent takeover of the coastal enclave that a senior PLO delegation has arrived in Gaza to study implementing the reconciliation agreements that Fatah and Hamas signed in Cairo in 2011 and in Qatar in 2012.
Ismail Haneya, premier of Hamas rule in Gaza and also deputy chief of the Hamas movement, told the delegation members in Gaza city that this era "is the era of implementation and not an era for more dialogues."
He called for a full implementation of all agreements, understandings and deals signed or agreed upon in both Cairo and Doha.
Meanwhile, al-Ahmed also expressed optimism towards implanting the agreements, saying that "we reached the zero moment for ending our internal division."
He also stressed that the talks with Hamas leaders in Gaza will include the formation of the unity government and deciding a date for holding the parliamentary and presidential elections as well as the elections of the Palestinian National Council, the parliament of the PLO in exile.
Xinhua