Future Movement officially backs Geagea's presidential bid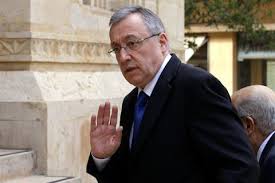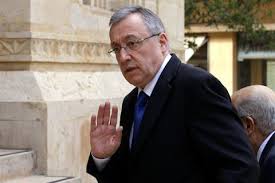 The Future Movement which has the largest parliamentary bloc announced on Monday its full backing to the presidential bid of the Lebanese Forces leader Samir Geagea.
"We announce our full support to Samir Geagea in his bid for the presidency," Future Movement bloc official MP Ahmed Fatfat stated after talks with visiting LF delegates.
This development comes as LF delegates continued their visits to parties and parliamentary blocs to hand over over Samir Geagea's presidential program.
Fatfat added that Geagea's presidential program "responds to the needs of the Lebanese people, to their aspirations and to their longing for strengthening the state's sovereignty, and restoring its prestige and role."
LF MP George Adwan praised Future Movement bloc's stance, considering it a "major step."
He also assured that "all March 14 blocs are committed to attending the scheduled parliamentary session on Wednesday to elect a new president."
"We will have a unified stance before Wednesday's parliamentary session," he revealed.
An LF delegation headed by Geagea's wife MP Sethrida Geagea met with Prime Minister Tammam Salam in the Beirut neighborhood of Msaytbeh to hand him Geagea's presidential program.
MP Geagea reiterated after the talks that March 14 will have one presidential candidate, noting that a positive atmosphere has prevailed so far in the envoys' meetings with local figures and parliamentary blocs.
Earlier in the day, MP Geagea handed Phalange Party chief Amin Gemayel the presidential program of the LF leader, stressing also the unity of the March 14 alliance regarding the presidential elections
She said after meeting Gemayel at the Phalange Party headquarters in Saifi in Beirut: "The March 14 alliance will be united in its stand over the elections."
"The alliance will stand behind one candidate when it heads to the parliamentary session on Wednesday," she told reporters.
Geagea described her meeting with Gemayel as positive, saying that the two sides highlighted the importance of the elections.
MP Geagea then met Progressive Socialist Party leader MP Walid Jumblatt, handing him a copy of the LF chief's presidential program.
Jumblatt confirmed after the talks that he will attend Wednesday's parliamentary session, saying however that he will declare his stance on the polls on Tuesday.
OTV revealed later that the National Struggle Front will convene tomorrow at 5:30 pm to discuss the presidential elections.
Meanwhile, another LF delegation met on Monday afternoon with National Liberal Party leader MP Dory Chamoun and the Jamaa Islamiya.
"We agreed on the importance of holding the presidential elections on time," LF MP Antoine Zahra said after meeting with Chamoun, remarking that the March 14 coalition agrees on Geagea's presidential program.
The two-member delegation, which included Geagea's adviser Wehbe Qatisha in addition to Zahra, then visited the headquarters of the Jamaa Islamiya in Beirut where it held talks with MP Imad al-Hout and the party's political bureau chief Wael Najm.
LF lawmakers are as well scheduled to meet with Speaker Nabih Berri to hand him a copy of the presidential program.
LF delegates met last week with President Michel Suleiman, Maronite Patriarch Beshara al-Rahi, and Free Patriotic Movement leader MP Michel Aoun for the same purpose.
Geagea launched his presidential election campaign on Wednesday during a press conference at his Maarab residence, in which he called for a strong state and vowed to abide by the constitution and the country's laws and promised many economic and social reforms if he was elected president. So far he is the only candidate who officially announced his candidacy.
It appears from media reports that March 14 is united around Geagea. Al Jadeed (New) TV reported on Monday that former Lebanese president Amin Gemayel , National liberal Party leader Dori Chamoun and MP Robert Ghanem all agreed to nominate Geagea for the presidency.
In another related development a Free patriotic Movement delegation comprising of minister Gebran Bassil, MP Elias Abou Saab and MP Naji Gharios met Jumblatt at his residence in Clemenceau on Monday. The delegation then left without making any statement, but OTV reported that the delegation did not ask Jumblatt to vote for FPM leader MP Michel Aoun's presidential bid.