Syrian opposition rivals clash, 51 fighters killed near Iraqi border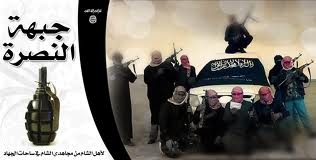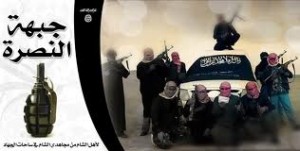 Syria's al-Qaida affiliate lost ground to its jihadist rivals around a town on the Iraqi border on Thursday in heavy fighting that left 51 combatants dead, a monitoring group said.
The fighting erupted at dawn after an assault by the jihadist Islamic State of Iraq and the Levant on posts held by al-Qaida affiliate al-Nusra Front and its allies.
The clashes centered around the border town of al-Bukamal, from which ISIL was expelled from earlier this year, said the Syrian Observatory for Human Rights. It said 51 fighters were killed.
The bodies of another 10 fighters, apparently executed by ISIL, were found at two sites near al-Bukamal, the Observatory said, adding there were reports of other summary executions in the same area.
Earlier, the monitoring group's head Rami Abdel Rahman said that ISIL was advancing in al-Bukamal and had taken control of several districts previously held by al-Nusra and other Islamist brigades.
The clashes prompted soldiers on the Iraqi side of the border to reinforce their positions.
The border crossing itself on the Syrian side remained in the hands of the mainstream rebel Free Syrian Army, according to a rebel chief on the Iraqi side.
The Observatory said earlier that fighters of the ISIL, a cross-border group which has been disowned by al-Qaida's leadership, launched a three-pronged assault on positions held by al-Nusra and its allies.
Al-Nusra, meanwhile, claimed responsibility for a twin car bombing in a pro-government area of the central city of Homs that killed 25 people and wounded more than 100 on Wednesday.
ISIL fighters were driven out of al-Bukamal in heavy fighting earlier this year and are seeking to link up with their comrades over the border in Iraq, Observatory chief Rami Abdel Rahman said.
"Since dawn there has been fierce fighting inside al-Bukamal. ISIL is advancing and has taken control of several neighborhoods of the town which were previously held byal-Nusra Front and Islamist brigades," he said.
Later in the day, Iraqi troops put up blast walls and sand berms on their side of the crossing.
Al-Bukamal has been under the control of fighters opposed to the Damascus regime since November 2012, but al-Nusra and its allies forced out ISIL fighters in heavy fighting earlier this year.
The Euphrates valley town had a pre-war population of some 70,000.
Syrian government troops control just one official crossing on the Iraqi border — al-Tanaf/al-Walid on the main highway to Baghdad.
A third crossing, Yarabiyah/Rabia in the northeast, is controlled by Kurdish militia.
Al-Nusra said Wednesday's twin bombing in the mainly Alawite Karm al-Loz district of Homs had targeted militia loyal to President Bashar Assad's Alawite-dominated regime.
In a statement posted on Twitter, the group said its militants had "penetrated one of the bastions of the Shabiha and placed two car bombs that detonated a half hour apart during a Shabiha gathering."
On Thursday, rebels, including al-Nusra fighters, seized a building near a military intelligence headquarters in the Zahra district of the main northern city of Aleppo, the Observatory said.
In Homs, unidentified gunmen killed 14 people, including several children, in the Karm al-Zeitun neighborhood.
The Observatory said the attack was carried out by pro-regime militia, but the state SANA news agency said an "armed terrorist group" was behind it.
Homs was an epicenter of the revolt but is now almost entirely in regime hands, with small pockets of rebels holding out in besieged areas in and around the devastated Old City.