Gemayel calls for privatizing the electric utility sector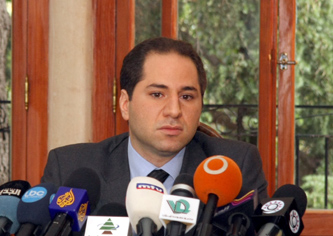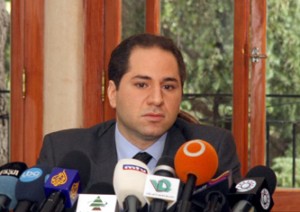 Phalange Party MP Sami Gemayel called on Wednesday for approving the new wage scale as demanded by the Syndicate Coordination Committee and stressed that privatizing the electric utility sector is the only solution for funding the proposed pay increases.
"If we take a look at the Budget, we can notice that the state spends money on three main issues; the public debt, the salaries of public employees and which amount to huge sums, and paying the deficit in the electric utility sector which is estimated at two billion US dollars," Gemayel said on Wednesday during a press conference held in Beirut's Saifi area.
"We have to deal with Lebanon's electric utility problem as this is the only solution if we wanted to act seriously and avoid dragging the country into a huge crisis," he stressed in calling for the privatization the sector.
He also added that the second solution to the new wage scale's "problem" lies in proper management of the customs fees.
Gemayel underlined the "entitlement" of public sector workers to salary increases.
"There is no doubt that [Lebanese] employees are incapable of leading a decent life with their current salary levels," Gemayel stressed.
"We cannot ask public employees not to accept bribes and to commit to the working hours unless their salaries are sufficient. We are today stressing on their rightful demands and we hope this issue is dealt with responsibly," he said.
Earlier on Wednesday, Head of Lebanon's Teachers Syndicate Nehmeh Mahfoud announced that the Syndicate Communication Committee has accepted a request from speaker Nabih Berri for a Sunday deadline to approve the ranks and salaries draft law, which aims to raise the salaries of public sector employees.
In December 2013, Lebanon's Budget and Finance Parliamentary Committee approved a series of changes to a proposal for public sector raises, which had been transferred to the parliament earlier that year.
The rates charged per kilowatt by Electricité Du Liban's ( EDL) the electric utility company in Lebanon are some of the highest in the world, but according to EDL sources, electricity bill collectors are afraid of going to Hezbollah and Amal neighborhoods for security reasons. Several collectors have been either killed or attacked whenever they tried to collect electric bills. Furthermore, all the recent energy ministers are allied with Hezbollah and did not therefore put any pressure on the group to insure payment of the electricity bills by its supporters.
Gemayel also called for voting on a new electoral law before electing a new president.
"There is an issue that we have to deal with as MPs, and which has been ignored by everyone," Gemayel remarked at a press conference.
"And this issue concerns agreeing on a new electoral law before falling into the same trap again," he stressed
"We warn everyone that if voting on a new electoral law does not take place before the vote on a new president, we will hence be jeopardizing democracy."
He continued: "We urge Speaker (Nabih) Berri to put all suggested drafts on the parliament's agenda before calling for a session to elect a new president, and this is to assure that we are on schedule and respecting constitutional and legal deadlines."
"And we will then submit our nominations for parliamentary elections based on the law that gathers the majority of support on August 18," he added.
"We have to agree on a modern electoral law, or else we will hold the polls based on an old one." He added
"The constitution stipulates that the electoral law is considered a regular law, and hence it requires the votes of a simple majority," he pointed out.