Geagea vows equality for all Lebanese and that he will not weaken Hezbollah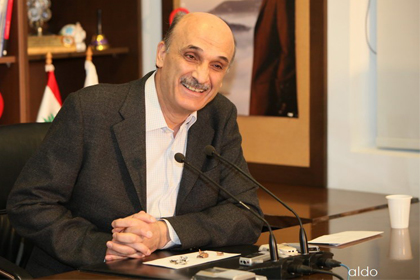 Lebanese Forces chief Samir Geagea remarked on Tuesday that he is currently the LF's candidate in the presidential elections, hoping that he will soon become the March 14 camp's candidate.
Addressing his presidential program, the LF chief said that he aspires "to strengthen the state and its role, not weaken Hezbollah."
He said: "Should I emerge as a victor in the elections, I will act as a president for the all the Lebanese people, but one who adopts the March 14 forces' approach."
"Contacts are ongoing with the March 14 alliance members in order to adopt my nomination, because we ultimately have to agree on a single candidate to face the March 8 camp's candidate," he explained while meeting a delegation from the Editors Syndicate.
He also expressed his fears that one of those "who aspires to become president would thwart the needed quorum at parliament in order to ensure that they be elected."
Geagea therefore called on all lawmakers to ensure that quorum be met in order to hold the presidential elections.
"MPs have an obligation towards their voters to perform their duties. They should provide a legitimate excuse to explain any absence from the elections," he stressed.
"The Lebanese people are bound to the constitution and laws," he added.
"My program seeks to restore the republic that is built on the Lebanese constitution and laws," he continued.
"A presidential candidate should have a clear political program, not just poetic phrases that do not lead to the rise of the state that we aspire to," Geagea remarked.
Asked about the "radical shift in rule" that he had spoken off should he be elected, he explained that this policy is based on equality among all people and not making compromises at the expense of their rights.
Geagea announced his nomination to the presidential elections on Friday.
He is the first official to announce his candidacy.
Al-Joumhouria newspaper reported on Monday that head of the Mustaqbal Movement Saad Hariri's advisor Nader al-Hariri had held talks with Geagea over the elections and the need to nominate a single member of the March 14 camp.
President Michel Suleiman's six-year term ends in May but the constitution states that parliament should choose a new head of state within a two-month period before the end of the incumbent's term, which was on March 25.
Naharnet