Hezbollah chief claims responsibility for attack on Israel in Shebaa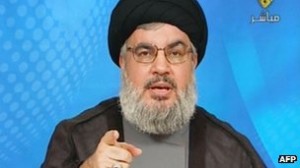 Sayyed Hassan Nasrallah claimed Hezbollah's responsibility for an attack on an Israeli military patrol in the occupied Shebaa Farms area last month.
Israel "got the message … It's all about deterrence," the chief of Hezbollah said.
Israel shelled southern Lebanon after the assault.
Nasrallah's statement came although media reports said the attack on Israel in March was claimed by the Qaida-inspired Islamic State of Iraq and the Levant.
Nasrallah told As Safir daily in an interview published on Monday that the roadside bomb ambush was carried out by the resistance in response to an Israeli raid in February on one of its positions in an area near the Lebanese-Syrian border.
Hezbollah had vowed to retaliate to the February Israeli raid near the Janta region in the eastern Bekaa valley.
It had vowed that it will choose the appropriate time and place to retaliate to the attack.
The Israeli raid was aimed at seeing the reaction of the resistance amid its involvement in the Syrian war, Nasrallah said.
"Had the resistance remained idle to the Janta raid, the enemy would have at any moment struck a truck or a target or a house in any region," he told As Safir.
Nasrallah ruled out a new Israeli aggression on Lebanon, saying the events in Syria were a cause of concern for Israel.
Israeli officials are wondering whether Hizbullah's new experience in Syria would allow it one day to take the battle to new directions, he said.
Hizbullah fighters have been fighting alongside Syrian government troops against the rebels trying to oust Syrian President Bashar Assad from power.
The Hizbullah chief claimed that Assad is no longer in danger of falling.
He also said the threat of bombings in Lebanon "has dropped considerably" because of the "measures adopted along the Lebanese-Syrian border."
Naharnet