First round of presidential elections expected next week in Lebanon's parliament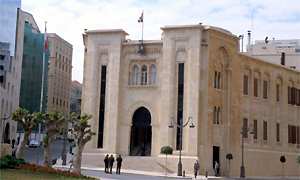 Speaker Nabih Berri is expected to call for the first round of parliamentary sessions to elect a new president next week, An Nahar newspaper reported on Monday.
According to the daily, the first electoral session will be held on April 16.
Berri said: "I understand (Maronite Patriarch Beshara) al-Rahi's concern to carry out the presidential elections as soon as possible," al-Joumhouria newspaper reported.
Al-Rahi urged Berri during his Sunday sermon to hold parliamentary sessions in order to determine the characteristics of the new president.
"I will exert efforts to hold a successful session after all the necessary requirements are prepared," Berri's visitors quoted him as saying.
The presidential elections committee that the speaker had recently formed will brief him on Monday on the discussions carried out by its members with the rival political parties concerning the matter.
The committee is comprised of Development and Liberation bloc lawmakers, Ali Osseiran, Michel Moussa and Yassine Jaber.
The committee, which was tasked with inquiring the opinion of the different parties on the polls, had drafted a report that includes several decisive points.
President Michel Suleiman's six-year term ends in May but the Constitution states that the parliament should start meeting March 25 to elect a new head of state.
Naharnet