Jumblatt meeting with French and Russian officials to discuss Presidential elections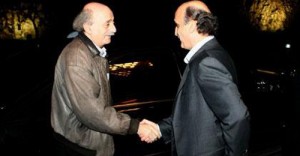 Progressive Socialist Party leader MP Walid Jumblatt held talks recently in Paris with senior French officials, who stressed the need to stage the Lebanese Presidential elections within the constitutional time-frame, local newspapers reported on Monday.
Jumblatt is set to head to Russia's capital Moscow to discuss the latest developments in Lebanon and the region with senior officials.
According to al-Joumhouria newspaper, French officials briefed Jumblatt, who is on a private visit to France, the importance of electing a strong president capable of facing the current challenges.
The officials also told Jumblatt that France will exert efforts to guarantee a local consensus among the Lebanese arch-foes regarding the new president.
President Michel Suleiman's six-year term ends in May but the Constitution states that the parliament should choose a new head of state within a two-month period before the end of the incumbent's term, which was on March 25.
An Nahar newspaper reported that Jumblatt met with several senior French officials, including French President Francois Hollande's Adviser for Middle Eastern Affairs Emmanuel Bonn.
Last week, the Lebanese Forces executive committee unanimously agreed to back the candidacy of LF chief Samir Geagea to the presidency.
Lebanese media have in recent weeks identified other presidential hopefuls as Kataeb party leader and ex-president Amin Gemayel, MPs Boutros Harb and Robert Ghanem, who are like Geagea members of the March 14 anti-Syria movement.
Other potential candidates are Hizbullah allies Free Patriotic Movement leader MP Michel Aoun and Marada Movement leader MP Suleiman Franjieh.
Lebanese presidents are always chosen from the Christian Maronite community.
Naharnet