Search for missing Malaysian plane focuses on signals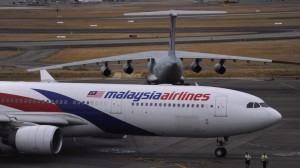 Planes and ships are being sent to investigate signals picked up by a Chinese ship involved in the Indian Ocean search for flight MH370, while an Australian ship is checking out another 'acoustic event'.
But retired armed forces chief Angus Houston, head of Australia's search co-ordination centre, has warned against raising the hopes of loved ones of the 239 people on board the missing Malaysia Airlines plane.
He told reporters in Perth on Sunday that China's Haixun 01 had detected two 'acoustic events', which provided 'some promise' and required a full investigation.
The first signal, at a frequency used by aircraft black boxes, was picked up overnight on Friday. The second signal, lasting about 90 seconds, was detected on Saturday.
Air Chief Marshal Houston said it was an 'important and encouraging lead' but warned there was no confirmed link to MH370.
HMS Echo would take about 14 hours to reach the search zone, he said.
Ocean Shield was currently investigating another 'acoustic event' in a separate area, which had only been detected in the hour before he faced the media, but would head to the new search zone when that was completed.
Air Chief Marshal Houston also said there had been a slight difference in the calculated air speed of MH370, which indicated the Malaysia Airlines plane may have been going faster than first thought.
It meant the search area would be more focused in the southern reaches of the current search zone, but did not change the overall search area.
Air Chief Marshal Houston said it was a 'painstaking process' and warned there could be similar unverified leads over the coming days.
He said the ocean in the Chinese search area was 4.5km deep, so any recovery operation would be demanding and take a long time.
But he stressed that authorities first had to establish there was actually something there.
'We're a long way from making that conclusion,' he said.
It was now day 30 of the search – nearing the end of the black box's advertised battery life.
While the battery could last an extra eight to 10 days beyond that, Air Chief Marshal Houston admitted they were running out of time.
The Malaysia Airlines Boeing 777 vanished on March 8 en route from Kuala Lumpur to Beijing, triggering an international search that started in the South China Sea before shifting to the vast Indian Ocean.
Up to 10 military planes, two civilian aircraft and 13 ships were assisting in Sunday's search effort, about 2000km northwest of Perth, in an area spanning about 216,000 sq km.
Sky News