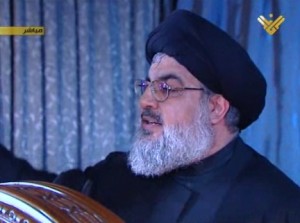 Hezbollah chief Hassan Nasrallah claimed in a interview with As Safir newspaper that some March 14 figures support the party's military intervention in Syria and that the Syrian regime is no longer facing imminent collapse.
"I can say that some of the March 14 coalition's supporters favor our intervention in Syria to protect Lebanon from terrorist takfiri groups." He told the Pro Syrian daily As Safir in an interview to be published on Monday.
Nasrallah did not name the March 14 figures that support its Syria role.
He also claimed that Hezbollah is no longer facing internal opposition to its military intervention in Syria.
"Some of our supporters were hesitant, but now they have made up their minds and support our fighting in Syria," he said.
Nasrallah added : "we have overcome the threat of partitioning and the military choice (against the regime) has failed."
Nasrallah commended the measures taken on the Lebanese-Syrian border on both sides and said that the risk of car bombs entering Lebanon from Syria has decreased.
Tens of thousands of Hezbollah fighters are reportedly fighting alongside the forces loyal to president Assad against the Syrian rebels who are seeking to overthrow the 40 year old dictatorship despite the Baabda agreement that calls for distancing Lebanon from regional and international conflicts.
According to analysts Hezbollah is willing to risk the foundations on which the entire Lebanese political system was built in order to prevent the collapse of Assad's regime
This error message is only visible to WordPress admins
Error: No connected account.
Please go to the Instagram Feed settings page to connect an account.