Al Qaeda chief calls on rival opposition groups to stop in-fighting in Syria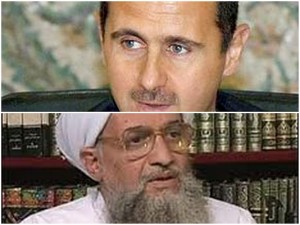 Al-Qaida chief Ayman al-Zawahiri has told rival jihadists in Syria to accept independent Islamic arbitration to end three months of infighting, saying in an audio message Friday the violence is "sedition".
Powerful rebel groups in Syria, including the Islamic Front and al-Qaida's affiliate Al-Nusra Front, have been locked in fierce fighting with the Islamic State of Iraq and the Levant (ISIL) since January.
The fighting broke out after allegations that ISIL brutally abused civilians and other opposition fighters battling to topple the regime of Syrian President Bashar Assad.
Tensions were further exacerbated when Al-Nusra and other rebel factions accused ISIL of killing Islamist Front commander Abu Khaled al-Suri in a suicide car bomb attack in February.
Abu Khaled was appointed last year as Zawahiri's representative in Syria and was once close to now slain al-Qaida founder Osama bin Laden.
Zawahiri eulogized him in the audio statement posted on the Internet by jihadist groups, saying his death was the result of "sedition" under way in Syria.
He called on "every Muslim and mujahid (jihadist)" to confront sedition and "accept independent sharia arbitration", or the ruling of an Islamic court, to end rebel infighting in Syria.
Jihadists "must disavow anyone who refuses (such) arbitration" and should not take part in the killing of fellow Islamist fighters, he added.
Zawahiri praised Abu Khaled, calling him a comrade in arms who fought alongside him against the Russians in Afghanistan in the 1980s.
"He was a sheikh among the sheikhs of jihad," he said of the slain rebel commander.
Al-Nusra Front chief Abu Mohammed al-Jolani has accused ISIL of murdering Abu Khaled and warned the group he would fight it inside Syria and Iraq, where ISIL has its base, unless it accepts Islamic arbitration.
Zawahiri called on the jihadists to stop the infighting when clashes first erupted in January.
In May 2013, he had ordered ISIL to disband and in early February al-Qaida's general command issued a statement publicly disavowing the jihadist group.
"Al-Qaeda announces it is not linked to the Islamic State of Iraq and the Levant, as it was not informed of its creation… (and) did not accept it," it said on February 3.
Abu Khaled, whose Islamic Front is the largest rebel alliance in Syria, was killed 20 days later in the northern city of Aleppo.
Nagar et