Over 1 million Syrian refugees flooding Lebanon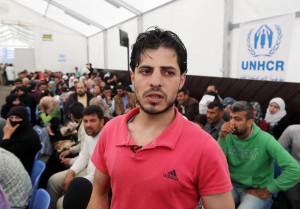 The number of registered Syrian war refugees who have flooded into Lebanon exceeded 1 million Thursday, the United Nations said. It was a devastating milestone in a humanitarian crisis that has overwhelmed this country and taxed the ability of the government and aid organizations.
Lebanon now has the highest concentration of refugees as a percentage of population, with about one Syrian for every three Lebanese. And new refugees keep coming as the civil war, which by some estimates has left more than 150,000 people dead, grinds into its fourth year. Each day, the United Nations registers 2,500 refugees in Lebanon, equivalent to more than one person per minute.
"The influx of a million refugees would be massive in any country. For Lebanon, a small nation beset by internal difficulties, the impact is staggering," António Guterres, UN high commissioner for refugees, said in announcing the new number in a joint statement with Lebanon's minister of social affairs, Rachid Derbas. "The Lebanese people have shown striking generosity but are struggling to cope."
Derbas called the breached threshold of 1 million "an occasion to launch a humanitarian and political call under the title: 'Lebanon should not be left alone.' "
Government and UN officials believe that the actual number of Syrians in Lebanon because of the conflict is much higher, because many do not register their presence.
This influx has overwhelmed public services, damaged the economy, and raised fears that the same sectarian and political splits fueling the war in Syria could lead to greater violence here. Already, gunfights between neighborhoods that support opposite sides in the war are routine in Tripoli, and a series of car bombs believed to be linked to the Syria conflict have killed dozens of civilians.
Unlike some of Syria's other neighbors, Lebanon has not built camps for refugees, leaving them to search for accommodations in host communities, often in unfinished buildings, storerooms, or animal sheds. This has created tensions with the Lebanese, who often see the Syrians as a drain on resources.
NY Times
Photo: Yahya, a teenager from Syria, was the millionth refugee to register in Lebanon. The United Nations says more than one Syrian per minute flees to Lebanon.