Infant death: School teacher leaves child in car all day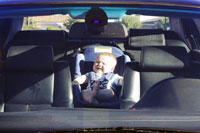 A school teacher in the southern city of Sidon forgot her baby inside the car during the day, and returned hours later to find him dead.
The teacher "had forgotten" to drop the infant at the daycare, before heading to her workplace.
While statistics are not reported in Lebanon, 43 children were killed in the U.S. last year due to heatstroke from being left in cars.
"F. S. finished her work at one of the city's private schools, and when she returned to her car, she was shocked to find that her baby boy was still in the locked vehicle," the daily An Nahar reported on Tuesday.
Upon realizing that her boy has died, the mother had a nervous breakdown that required transferring her to a hospital in Sidon, the same source noted.
Naharnet