Israel opens heavy gunfire on occupied Shebaa Farms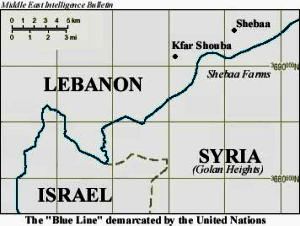 A half-hour of heavy gunfire was reported at dawn on Tuesday in the occupied Shebaa Farms near the Israeli military site of Ruwayssat al-Alam.
According to the state-run National News Agency, the incident was accompanied by Israeli drones that flew over the Shebaa Farms, Golan Heights and Mount Hermon (Jabal al-Sheikh).
An Israeli armored force patrolled the occupied parts of al-Wazzani area and al-Abbasiya.
On Monday, the Israeli army planted a surveillance device along the technical fence to spy on Lebanon, the NNA reported.
In March, a bomb along the Syria-Israel frontier in the occupied Golan Heights wounded four Israeli soldiers, prompting the Jewish state to retaliate by striking Syrian army positions.
It was one of several incidents on Israel's northern borders with Syria and Lebanon last month.
Hizbullah, which supports the regime of Syrian President Bashar Assad, has threatened to retaliate after an air raid in February, in what was first reported Israeli strike on the group inside Lebanon since a devastating 2006 summer war between the arch-foes.
Naharnet