President Suleiman says Lebanese Army should do whatever it takes to defeat terrorism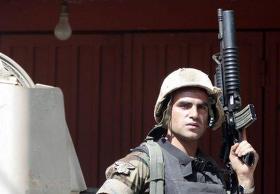 President Michel Suleiman urged on Friday the Lebanese Armed Forces to confront terrorists and criminals no matter how much sacrifices they make.
In a statement issued by Baabda Palace, Suleiman said: "All terrorist activities that target the members of the army and police won't stop those forces from implementing the decision of the government to preserve security and stability."
The cabinet approved on Thursday a security plan for the northern city of Tripoli and the northern areas of the Bekaa Valley bordering Syria. It instructed the armed forces to seize weapons caches and take all measures to arrest armed men in Tripoli in addition to kidnappers and assailants involved in car theft in the Bekaa.
Suleiman urged the armed forces to stick to the measures that they are taking in hotspots and "not to be lenient with terrorists and criminals no matter how much sacrifices they make so that they preserve civil peace and security."
The president also said that the army and security forces "should cut the road to those who sought to turn the nation into a hostage to serve terrorists and criminals."
He extended his condolences to the families and relatives of a soldier and an Internal Security Forces member killed in the northern city of Tripoli respectively on Thursday and Friday.
ISF member Butros al-Bayaa was in his Range Rover when armed men opened fire on him in the area of al-Qobbeh on Friday morning. He died after he was shot in the head.
As for army warrant officer Fadi al-Jubaili, he was killed early Thursday by two masked gunmen riding a motorcycle in the area of Boulevard.
Suleiman also lauded the army, which pursued Sami al-Atrash, a terrorist wanted in connection with car bomb attacks against Hizbullah.
Al-Atrash was killed Thursday in a shootout as the army tried to arrest him in the northeastern town of Arsal near the Syrian border.
Naharnet