New floating objects could lead to discovery of Malaysian jet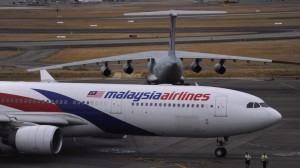 Fresh satellite images taken during the search for a missing passenger jet show 122 "potential objects" in one area of the Indian Ocean, Malaysia said Wednesday.
The images from Airbus Defense and Space in France show the objects in a 400-square-kilometer (160-square-mile) area of the ocean, said Transport Minister Hishammuddin Hussein.
Hishammuddin told a daily press conference it was not possible to say whether the objects came from the Boeing 777 which crashed on March 8 with 239 people aboard.
"Nevertheless, this is another new lead that will help direct the search operation," he said.
Earlier satellite data from Australia, China and France had also shown floating objects possibly related to MH370, but nothing has so far been retrieved despite a huge multinational search.
Hishammuddin said the Airbus images were taken on Sunday, received Tuesday, and immediately forwarded to the Australian agency coordinating the search.
He said the Malaysian Remote Sensing Agency had identified the 122 "potential objects" after analyzing the satellite images.
Some were a meter in length while others were as long as 23 meters.
"Some of the objects appeared to be bright, possibly indicating solid materials," the minister said.
They were located about 2,557 kilometers (1,600 miles) from Perth. The search effort has focused on waters far to the southwest of Australia.
Hishammuddin said that his government would be judged favorably by posterity over its much-questioned handling of the crisis over missing flight MH370.
"I think history will judge us well," he added.
Hishammuddin had been asked how Malaysia would be able to repair its image and "bruising" treatment by the international media.
"'Bruising,' I think is a bit too harsh because this is unprecedented," he said.
"Anybody who has gone through this, what we have gone through… has indicated to me that we have done quite an admirable job."
Malaysia's authoritarian government has come under international criticism over the unexplained disappearance of the plane on March 8.
The government, and flag carrier Malaysia Airlines, still say they have no idea what caused the plane to divert far off its intended Kuala Lumpur-Beijing route, enraging relatives who are demanding answers.
Malaysia's initial response to the crisis was plagued by contradictory statements and allegations that authorities wasted precious search time by taking a week to analyze Malaysian military radar that indicated the plane had veered out over the Indian Ocean.
The massive Malaysia-coordinated search effort was eventually reoriented to the Indian Ocean, away from an initial focus on the South China Sea.
"Not many countries in the world could get 26 countries to work together," Hishammuddin said, referring to the size of the international effort at its height.
"Not many countries can get all the most sophisticated planes from countries from every corner of the world to come and assist."
Malaysia said this week the plane was last detected by a satellite far in the southern reaches of the Indian Ocean, where it is presumed to have crashed.
Many of the next-of-kin of MH370 passengers, particularly Chinese relatives, angrily accuse the flag carrier and the Malaysian government of incompetence and withholding information.
A U.S. law firm said earlier on Wednesday that it had initiated what it called the first civil legal proceedings over the crash of flight MH370 and that it planned to pursue lawsuits seeking "millions of dollars" for aggrieved families.