Saudi Arabia: world has betrayed Syrian opposition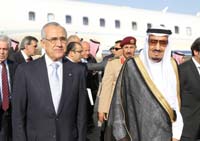 Saudi Arabia's crown prince said Tuesday the international community has "betrayed" Syrian rebels by failing to arm them against the regime of President Bashar Assad.
"The legitimate Syrian resistance has been betrayed by the international community and left easy prey to tyrant forces," Crown Prince Salman bin Abdulaziz told the Arab summit in Kuwait City.
He was referring to unkept promises by several nations to arm fighters battling to topple the Assad government, which is backed by Russia and Iran.
Saudi Arabia is one of the main backers of the rebellion against Assad that erupted three years ago and has become a full-fledged civil war after loyalists launched a crackdown against protesters seeking democratic reforms.
"Syria has become a (battle) field open to killings and destruction carried out by an iniquitous regime with the participation of foreigners and armed terrorists who come from everywhere," said the crown prince.
He also called on the Arab League to speed up the handover of Syria's seat in the 22-member organization to the opposition National Coalition, in order to give it formal status that could cement its recognition by world powers.
"This must be sorted out… in order to send a strong message to the international community so that it will change its attitude towards Syria," said the crown prince about the seat.
The seat — vacated after the Arab League suspended Syria's membership over the conflict — was promised to the opposition at last summit in Doha.
Arab League chief Nabil al-Arabi said the opposition must meet certain legal requirements before taking over the seat.
As a result National Coalition chief Ahmed Jarba addressed the summit in Kuwait City Monday but was not allowed to speak from the spot reserved for Syria.
For his part, the emir of Qatar called for "comprehensive dialogue" in Egypt to achieve political stability and insisted on good ties with Cairo which accuses Doha of supporting banned Islamists
"We wish Egypt, our elder sister, political stability and all the good for its people," said Sheikh Tamim bin Hamad al-Thani at the opening of the Arab Summit in Kuwait.
"We stress on the brotherly links we have with Egypt," he said.
Relations between Egypt and the Gulf state have been strained over Doha's backing for Islamist President Mohammed Morsi, who was ousted by the army in July following nationwide protests.
Sheikh Tamim said he hoped that stability in Egypt would be achieved through "a comprehensive dialogue" between the government and all parties — an apparent reference to Morsi's blacklisted Muslim Brotherhood.
The Brotherhood is banned in much of the region, and the UAE, Kuwait and Saudi Arabia pledged billions of dollars in aid to Egypt after the overthrow of Morsi.
Tensions between Qatar and fellow Gulf states have escalated to unprecedented levels when Bahrain, Saudi Arabia, and the UAE recalled their ambassadors from Qatar, accusing Doha of interfering in their internal affairs.