Gemayel quits position in protest of Hezbollah government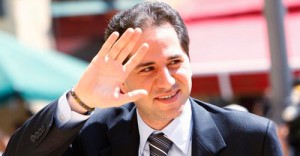 Kataeb MP Sami Gemayel resigned from a top post in his March 14 alliance party to protest its decision to join the national-unity government alongside Hezbollah.
Gemayel, whose Christian party gave the cabinet on Thursday a vote of confidence, has been vocal in his criticism of the make-up of Premier Tammam Salam's government, which enshrines the "right of Lebanese citizens to resistance" in its policy statement.
Gemayel resigned as the coordinator of the Kataeb's central committee on Tuesday.
The source explained that Gemayel gave his vote of confidence to the government in order not to contradict his party's support of the cabinet, which includes three Kataeb ministers.
Gemayel instead registered his opposition to his party's participation in the government by tendering his resignation from the central committee, the source added.
The Kataeb MP said during last week's parliament vote of confidence session that the current government was "one of contradictions."
"The ministerial statement confirmed in many clauses the authority of the state. However, in the clause related to the resistance, some parties insisted that the authority of the state should not be mentioned," he said.
Gemayel's comments last Thursday come after the March 14 alliance's commemoration earlier in the month, during which he launched a fiery broadside against Hezbollah.
"Why didn't the suicide bombers come to Lebanon before Hezbollah's participation in Syria?" he asked during the March 14 ceremony at Beirut's BIEL exhibition center.
"Our problem with Hezbollah is that it did not accept the democratic game and has stepped away from the constitution and laws."
Gemayel's protest resignation comes amid rifts among March 14 alliance party's over the government, which has seen the Lebanese Forces refuse to grant the cabinet a vote of confidence, while the National Democratic Party rejected joining the government.
Now Lebanon