Pro-Hezbollah Lebanese Minister walks out of Arab Summit over Syrian opposition speech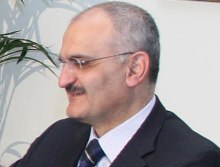 Finance Minister Ali Hassan Khalil announced on Tuesday that he withdrew from the Arab League meeting during Syrian National Coalition chief Ahmed Jarba's speech.
"I pulled out from the hall in harmony with my own convictions and allegiances," Khalil, who is the political adviser of Speaker Nabih Berri, said via Twitter.
Berri, who is the leader of AMAL movement, is a strong ally of Hizbullah that is engaged in battles in the neighboring country Syria in support of President Bashar Assad.
Jarba accused, during his speech at the Arab League, Hizbullah and Assad's regime forces of desecrating the homes of the residents of the strategic town of Yabrud in the Qalamoun region adjoining the Lebanese border.
"You have all seen the leaked movies, the behavior of the fighters and the sectarian hatred… You have all heard about the sweets distributed in Beirut's southern suburbs to celebrate the fall of Yabrud and the victims."
Yabrud's capture was celebrated in Damascus by hundreds of residents who took to the streets to celebrate. And in Lebanon, Hizbullah supporters fired celebratory gunshots in the air in Beirut and its southern suburbs.
Hizbullah is believed to have played a key role in the town's capture.
Hizbullah's involvement in Syria has prompted retaliatory bomb and rocket attacks by extremist groups against areas in Lebanon sympathetic to the movement. The attacks have mostly killed civilians.
The group and Lebanese security forces have said many of the car bombs used in those attacks originated in Yabrud.
Jarba criticized "the yielding of Assad and his ally (Hizbullah Chief Sayyed Hassan) Nasrallah before Israel."
Naharnet