Syrian regime seizes Crusader fort Krak des Chevaliers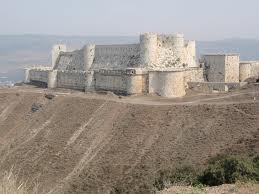 Syrian regime forces have seized famed Crusader fort Krak des Chevaliers, killing dozens of rebels in the surrounding area and sending scores fleeing across the nearby Lebanese border.
"The Syrian Arab Army raises the flag of the nation over the Krak des Chevaliers castle in Homs province , after crushing the terrorists who were holed up there," state television said on Thursday.
Lebanon's Al-Mayadeen TV, a private broadcaster sympathetic to Syria's government, broadcast live footage from the fort.
Regime forces could be seen atop one of the castle's towers, raising the flag of the Syrian government.
They entered the fort after fierce clashes in the nearby village of Al-Hosn, which a pro-regime militia chief said had left at least 40 rebels dead.
Among those killed was the leader of the jihadist Jund al-Sham, Khaled al-Mahmud. He was better known by his nom de guerre Abu Suleiman al-Muhajer, the National Defence Forces commander said.
As the army shelled the area around Al-Hosn, dozens of people tried to flee for neighbouring Lebanon.
The Syrian Observatory for Human Rights and a Lebanese security source reported 60 people "killed or injured" as they fled for the border.
The Britain-based group was unable to confirm a precise death toll, but said that both civilians and fighters were among the casualties.
Syrian army tanks also shelled the border area, causing at least one house in northern Lebanon's Wadi Khaled district to burn down.
The mainly Sunni Muslim area of north Lebanon, whose residents are largely sympathetic to the rebels fighting to overthrow Syrian President Bashar al-Assad, has come under frequent cross-border shelling by his forces.
It is home to thousands of families who have fled the three-year-old conflict.
Sunni protesters in northern Lebanon took to the streets and set up roadblocks of burning tyres to express their solidarity with people in Wadi Khaled.
The Lebanese army, meanwhile, closed off unofficial border crossings in the north, citing the danger caused by the artillery fire.
SBS