Second Round of Iran Nuclear Talks Ends With Optimism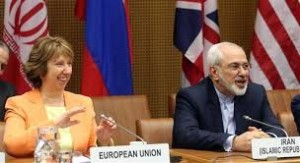 The second round of talks between Iran and six world powers over Iran's nuclear program ended Wednesday with all parties expressing satisfaction with the discussions, which were the most detailed so far on each of the main issues dividing them.
Both Catherine Ashton, the European Union's foreign affairs chief and the chief negotiator for the six powers, and Mohammad Javad Zarif, the Iranian foreign minister, described the talks as "useful and substantive."
Although neither offered details, a senior American official described the sessions as "intense" and said there were discussions of Iran's uranium enrichment program, the construction of a heavy water reactor at Arak that could be used to make plutonium into a fissile material, civilian cooperation on nuclear power and sanctions.
The talks, which started on Jan. 20 and are expected to last until July 20, are aimed at reaching a permanent agreement intended to ensure that Iran cannot develop a nuclear weapon and that if it continued to have a nuclear program, it would be for exclusively peaceful purposes.
Iran and the Western powers agreed in November in Geneva on a six-month schedule for concluding a permanent agreement. For the time being the West has offered Iran limited relief from sanctions in exchange for diluting the uranium it has enriched down to 3.5 percent from nearly 20 percent. Iran has been diluting its stock, according to the United Nations nuclear watchdog, the International Atomic Energy Agency. That move is viewed by nuclear experts as a demonstration of Iran's seriousness about trying to reach a long-term agreement.
Uranium enriched to 90 percent can be used to make a nuclear weapon, and it takes just a few months to increase enrichment from 20 percent to 90 percent. However, if Iran were starting with only 3.5 percent enriched uranium, the process would take much longer.
Enrichment is at the heart of the disagreement between the two sides about Iran's program. Iran insists that its enrichment is for peaceful purposes, but intelligence from Western countries and unanswered questions about Iran's program from the atomic agency, have raised questions about whether Iran has been honest about its intentions.
Negotiators from the United States are under pressure from Congress to take a hard line in the discussions. In a letter to President Obama signed by a bipartisan group of 83 senators, the lawmakers laid out their "core principles," which included that "Iran has no inherent right to enrichment under the Nuclear Nonproliferation Treaty."
The treaty — of which Iran is a signatory — includes articles that allow countries to have civilian nuclear energy programs if they can also show that they will not use the program for military purposes.
The senators also said that Iran must give up its heavy water reactor at Arak and its Fordow enrichment facility.
In response to their letter, President Hassan Rouhani of Iran told a cabinet meeting that the country would never give up its right to enrichment, according to the official Iranian news service.
"The world has admitted that Iran is, and will be, among the countries which have nuclear technology, including enrichment, and there is no doubt about this for anyone," Mr. Rouhani said, according to the news service.
Despite the tough tone, there is room for an agreement such as one that allows very low levels of enrichment for civilian purposes and that includes a strict verification program, according to experts on Iran's technology.
The atmosphere inside the talks was flinty, but also serious and civil, according to the senior American official, who asked not to be named because of the delicacy of the negotiations.
"Everybody is very professional, very focused, no histrionics, no walking out, no yelling and screaming," the official added. "People understand the stakes are pretty profound; there is a sense of the tremendous responsibility on people's shoulders."
Although Russia is one of the nations involved in the talks, the tensions over Ukraine did not seem to affect the meetings this week, diplomats said.
The negotiators plan to return to Vienna on April 7 for further discussions.
NY Times