Aoun wants to be the president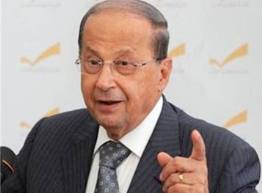 Free Patriotic Movement ( FPM) leader MP Michel Aoun on Wednesday confirmed that there is a serious possibility that he will run for president as the Lebanese presidential election period is set to begin in late March ahead of President Michel Suleiman's term expiry on May 25, Aoun said in an interview with Al-Hadath television on Wednesday.
He also hinted that he would take an independent political line from Hezbollah as the presidential election draws near, saying, "When Israel targeted Hezbollah, I supported them, and when Syria came after National Struggle Front leader MP Walid Jumblatt and MP Marwan Hamadeh, I supported them, but now I want to support myself."
local media reports said Aoun's meeting last month with former Prime Minister Saad Hariri in Rome predicted that he could be a candidate for the presidency.
Aoun called on all foreign forces to withdraw from Syria, but tried to clarify Hezbollah's role in Syria
"All forces must withdraw from Syria and leave the Syrian people alone," he said adding "Hezbollah might have intervened in Syria to protect the Syrian regime or to protect itself,"
Aoun also said that he "has not seen Iranian militants in Syria." He did not clarify how he reached this conclusion about Iran's role.
Aoun said his alliance with Hezbollah, which was agreed in a 2006 memorandum of understanding, was necessary to guarantee Lebanon's stability.
Despite defending his ties with Shiite party, Aoun said that he "paid for the price of his alliance with Hezbollah, especially concerning the presidency."
He also touched on the disputed issue of the 'resistance', saying a strong Army would eliminate the need for Hezbollah.
"We want arms for the military that could represent deterrence to Israel if we wanted to eliminate the resistance," said Aoun, adding that such a plan could take years.
This is not the first time that Aoun hints that he is ready to dump Hezbollah.
Aoun told former US Ambassador Jeffrey Feltman in 2007 that he was willing to dissolve his 2006 Memorandum of Understanding with Hezbollah if he receives a better offer, a classified US embassy cable that was leaked by WikiLeaks revealed.
Many analysts in Lebanon blame Aoun's MOU with Hezbollah for Lebanon's problems; Most of the problems in Lebanon started after the MOU: The 2006 war between Hezbollah and Israel that devastated the whole country , the 2006 -2008 occupation of downtown Beirut by Hezbollah and its allies to bring down the government , the May 2008 occupation of west Beirut by Hezbollah against the Sunnis and the coup against the Hariri government in January 2011. The analysts claim that Aoun who was dreaming of using Hezbollah to become the president of Lebanon was used by Hezbollah as a Christian cover.