Israel's air force struck a number of Syrian targets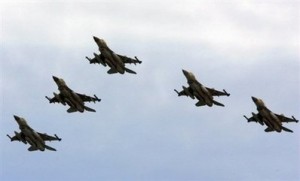 Israel's air force struck a number of Syrian military and security targets connected to the blast that injured four Israeli soldiers on Tuesday, the IDF Spokesman said early on Wednesday , Haaretz newspaper has just reported .
The targets, which included military headquarters, artillery batteries and a training base belonging to the Syrian military, "enabled and aided in the carrying out of Tuesday's terror attacks," the IDF statement read and added: "The IDF retains the right to act in any way and at any time it sees fit to protect the citizens of Israel."
The strikes were carried out in the Syrian part of the Golan Heights, the spokesman said.
Four Israeli soldiers were wounded by a bomb that hit their jeep in the Golan Heights near the Syrian border on Tuesday afternoon.
Three of the wounded soldiers were in light and moderate condition and a fourth sustained serious injuries. They were evacuated to Rambam Medical Center in Haifa for treatment.
The blast that hit the Israeli army jeep was apparently caused by a roadside bomb planted near the border fence in Majdal Shams.
An initial investigation revealed that the soldiers had approached the border after suspicious figures were seen from the lookout tower. An explosive device was detonated when the soldiers exited the jeep.