Explosion in Golan Heights wounds 3 Israeli soldiers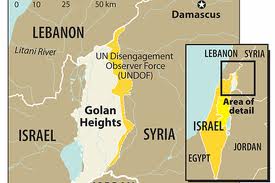 An explosion in the Israeli-occupied Golan Heights wounded three Israeli soldiers near the Syrian frontier on Tuesday, Israeli military sources said.
Israeli forces responded with artillery fire into Syrian-held territory, Israeli Army Radio said.
The military sources said the blast was apparently caused by a roadside bomb planted near the border fence. They said the soldiers' injuries ranged from moderate to light.
Two weeks ago, Israeli troops shot two fighters belonging to Lebanon's Hezbollah group near the fence between the Golan Heights and Syrian-held territory. The Israeli army said they had been trying to plant a bomb near the barrier.
Israel captured the Golan from Syria in the 1967 war and annexed it in a move not recognised internationally. The strategic plateau has seen occasional spillover violence from the Syrian civil war.
Israel has accused Hezbollah, which is helping Syrian President Bashar al-Assad in the conflict, of setting up positions on the other side of the boundary fence.
On Friday, an explosive device was detonated against Israeli soldiers patrolling the nearby border with Lebanon, an incident which the army said caused no injuries.
Security sources said the explosion damaged an army jeep as it drove near the ceasefire line with Syria, outside the Israeli Druze town of Majdal Shams, without giving further details.
Hezbollah has threatened to retaliate after an air raid in February, in what was first reported Israeli strike on the group inside Lebanon since a devastating 2006 summer war between the arch-foes.
There was no immediate indication that Hezbollah was involved in Tuesday's blast
Reuters