U.S. warns Russia against annexing Crimea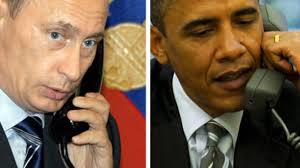 Having failed to prevent a Russian-sponsored referendum in Crimea, the Obama administration and its European allies refocused their efforts Sunday on keeping Moscow from annexing the autonomous Ukrainian region and expanding its military moves into other parts of Ukraine.
In a telephone call to Russian President Vladi­mir Putin — his third in two weeks — President Obama said that the referendum "would never be recognized by the United States and the international community" and that "we are prepared to impose additional costs on Russia for its actions," the White House said.
An earlier White House statement, issued as Crimean polls were closing on an overwhelming vote by residents to become part of Russia, called Moscow's actions "dangerous and destabilizing" and said that "military intervention and violation of international law will bring increasing costs for Russia."
European Union officials are due to meet Monday to consider measures — including an asset freeze and a travel ban on as-yet-unnamed Russian individuals deemed responsible for military aggression and corruption in Ukraine — that British Foreign Secretary William Hague said "must be adopted."
But how far the West is prepared to go in punishing Russia for the referendum, and how much further Putin intends to take his quest for control over part, if not all, of Ukraine, remain uncertain.
Obama administration promises last week to exact a cost if the vote were held — even before new Russian military exercises on Ukraine's eastern and southern borders and Saturday's seizure of a Ukrainian gas plant just beyond Crimea's northern boundary — would seem to make the imposition of at least some sanctions this week a foregone conclusion.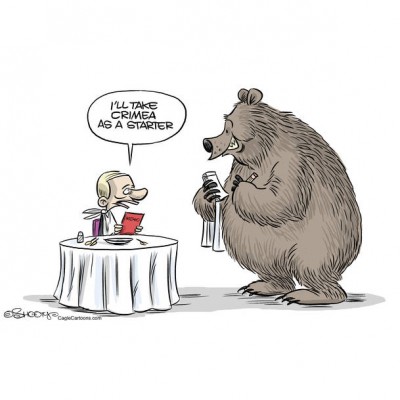 The question for the West is whether harsh retribution now will make Putin more or less likely to desist from further action. Although he has so far been impervious to American and European threats, U.S. officials think that the cost the upheaval has already imposed on the Russian economy will become unbearable if Putin does not yield.
The West could also suffer costs if Russia cuts off energy supplies to Europe and further squeezes the Ukrainian economy. But Western officials say that is a price they are willing to pay and have pledged economic support to Ukraine.
At the same time, the Obama administration wants to hold more severe punishment in reserve, to unleash in response to annexation or further Russian attempts to destabilize Ukraine.
"In this century, we are long past the days when the international community will stand quietly by while one country forcibly seizes the territory of another," the White House statement said. "We call on all members of the international community to continue to condemn such actions, to take concrete steps to impose costs, and to stand together in support of the Ukrainian people and Ukraine's territorial integrity and sovereignty."
Short of immediate Russian annexation, U.S. officials said, post-referendum Crimea is likely to continue in a sort of limbo status — while both Russia and the West decide what to do about it.
As he has since the Ukraine crisis began last month, Obama urged Putin to take advantage of "a clear path for resolving this crisis diplomatically" that would allow international monitors to investigate alleged abuses against the ethnic Russians in Crimea whom Moscow says it is protecting. The West, along with numerous reporters in the region, has said the abuses are largely nonexistent.
The Kremlin also reported on the call, saying Putin told Obama that the referendum was "fully consistent with the norms of international law and the U.N. charter" and comparing the Crimea situation to the West's recognition of a legal framework for the breakup of the former Yugoslavia.
Ukraine's interim government, under close guidance from the United States and Europe, has offered constitutional reforms and consultation with Russia on a new arrangement for increased Crimean autonomy. Presidential elections scheduled for May 25 in Ukraine will "provide a legitimate opportunity for all Ukrainians to make their voices heard on the future of their country," the White House repeated Sunday.
But Obama, the White House said, "reiterated that a diplomatic resolution cannot be achieved while Russian military forces continue their incursions into Ukrainian territory and that the large-scale Russian military exercises on Ukraine's borders only exacerbate the tension."
There was a small glimmer of optimism early Sunday after a telephone call between Secretary of State John F. Kerry and Russian Foreign Minister Sergei Lavrov. The Foreign Ministry said that the two had agreed to continue working toward a solution to the crisis through "an earliest possible launch of constitutional reform" in Ukraine.
A senior State Department official, speaking on the condition of anonymity about the sensitive diplomacy, said that it was "positive to see Russia focusing on the political processes in the form of constitutional reforms that have been ongoing."
But until Russia ends its "provocative" troop movements, pulls its troops in Crimea back to their barracks and stops its partisans from agitating within Ukrainian cities, the official said, political overtures cannot be taken seriously.
Several senior U.S. lawmakers expressed skepticism about any deal involving Russia.
Senate Foreign Relations Committee Chairman Robert Menendez (D-N.J.) said on "Fox News Sunday": "Putin has started a game of Russian roulette, and I think that the United States and the West have to be very clear in their response, because he will calculate about how far he can go. So that means having very robust sanctions ready to go, starting with the Crimea vote and moving onward."
He added: "I think the question will be, what does Russia do in response? And having those sanctions ready — whether it be against the defense minister, the federal security service, the secretary of their security council, possibly the executives of Gazprom and Rosneft, which are their oil and gas companies — send a very clear message."
Washington Post