Over 95% of Crimeans in referendum voted to join Russia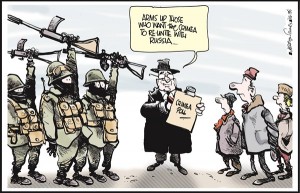 Over 95 percent of voters in the Crimean referendum have answered 'yes' to joining Russia and less than 4 percent of the vote participants want the region to remain part of Ukraine, according to a report by Russian government owned website Russia Today ( RT) .
The numbers are very similar to what the regimes in the Arab world such as Syria have reported in the past.
The RT report was based on 75 percent of the votes that have already been counted which showed that 95.7 percent of voters said 'yes' to the reunion of Crimea with Russia as a constituent unit of the Russian Federation. Only 3.2 percent of the ballots were cast for staying with Ukraine as an Autonomous Republic with broader rights, the report said. The remaining 1.1 percent of the ballots were declared invalid.
The report added that the overall voter turnout in the referendum on the status of Crimea is 81,37%, according to the head of the Crimean parliament's commission on the referendum, Mikhail Malyshev.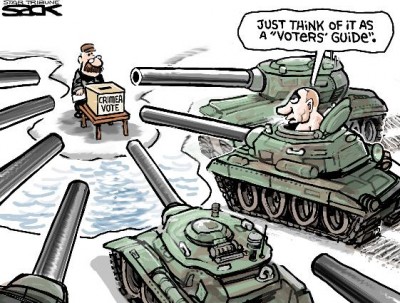 The report claims that over a half of the Tatars living in the port city of Sevastopol took part in the referendum, with the majority of them voting in favor of joining Russia. About 40% of Crimean Tatars went to polling stations on Sunday, the republic's prime minister Sergey Aksyonov said.
In a telephone call to Russian President Vladi­mir Putin — his third in two weeks — US President Barack Obama said that the referendum "would never be recognized by the United States and the international community" and that "we are prepared to impose additional costs on Russia for its actions," the White House said.