4 rockets land in Hezbollah stronghold in east Lebanon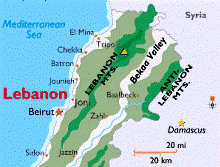 Four Rockets struck Hezbollah stronghold in the Beqaa area in Eastern Lebanon in and near the town of Labwe on Monday afternoon, injuring one resident and causing material damage, the Lebanese Army said in a statement.
The Lebanese army added that one rocket landed inside the town of Labwe, while three others hit an area between Labwe and the nearby Nabi Othman, injuring one person.
Following the attack, army patrols starting roaming the targeted areas and a military expert rushed to the scenes of the blasts.
There are increased security concerns in Lebanon's eastern Beqaa following Yabrud's fall.
A suicide car bomb ripped through Nabi Othman on Sunday evening following the capture of the border town of Yabrud east of Labwe by the forces of the Syrian regime and Hezbollah fighters.
The army dismantled on Monday morning a car rigged with explosives weighing 170 kg in the Al-Fakiha area.