Syrian parliament approves new election law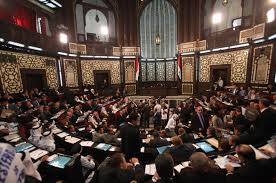 Damascus – Syria's parliament unanimously approved a new election law Thursday allowing multiple candidates to run for president, opening the door – at least in theory – to other potential contenders besides President Bashar Assad.
The vote comes nearly four months before Assad's seven-year term as president officially expires. Syrian officials say the presidential elections will be held on time and Assad has suggested he would run again, though he hasn't confirmed whether he'll seek re-election.
The poll must be held between 60 and 90 days before Assad's term ends on 17 July.
Syria has been ruled by the Baath party since it seized power in a 1963 coup. Past presidential elections under Assad and his late father, Hafez Assad, had them as the sole candidate.
Under their rule, previous elections asked voters to cast "yes" or "no" ballots on whether they supported parliament's nomination of them for the presidency.
The country held a referendum in March 2012 on a new constitution that allowed for a multiparty political system in Syria and multiple presidential candidates.
That referendum, held amid an escalating civil war, was part of gestures of reform meant to defuse the unrest. The opposition dismissed it as an attempt at superficial reforms that do nothing to break the president's hold on power.
The bill adopted on Thursday says only candidates who lived in Syria for 10 consecutive years prior to nomination can run for president. It also stipulates that candidates should be born to Syrian parents and must not have any other nationality.
State television broadcast the vote live, but the parliament speaker did not say how many lawmakers voted for the bill.
Khalid Saleh, a member of the main Western-backed opposition group, the Syrian National Coalition, said any notion that Assad may run for re-election demonstrates "the uttermost disregard for the blood" of the thousands of Syrians killed.
Against elections
He said in a statement that the election law adopted by parliament was "illegitimate" and said the group "strongly rejects participation of opposition members as candidates against Assad in the presidential elections, as this would imply recognition by us of the legitimacy of his presence in the elections."
The opposition has categorically refused the notion of presidential elections being held in Syria under the current circumstances. The coalition has called on Assad to step down in favor of a transitional governing body that would administer the country until free presidential and parliament elections can be held.
The Syrian conflict, now entering its fourth year, has killed more than 140 000 people, sent more than 2.5 million fleeing for neighbouring countries and destroyed entire blocks in opposition-held areas of the country.
Issam Khalil, a member of the parliament, dismissed the idea that the law was tailored for Assad.
"The parliament doesn't accept that but what has been tailored to fit is the will of Syrians alone," he said at Thursday's parliament session.
Meanwhile Thursday, a United Nations diplomat said Syria mediator Lakhdar Brahimi told the UN Security Council that the Syrian government used "delaying tactics" during failed peace talks in Geneva.
According to the diplomat, Brahimi said that at the peace talks last month, the opposition agreed to discuss terrorism and the establishment of a transitional governing body in parallel. But Brahimi said the government insisted on concluding the terrorism discussion before starting any talk of a transitional government.
The diplomat spoke on condition of anonymity because Wednesday's council meeting was closed.
In Lebanon, two people, including a 10-year-old girl, were killed and five others were wounded on Thursday after clashes erupted in the northern city of Tripoli, Lebanese security officials said on condition of anonymity in line with regulations.
Violence related to the war in Syria frequently breaks out between two impoverished rival neighbourhoods in Tripoli, one dominated by Sunni Muslims and the other by Alawite members of Assad's sect.
Associated Press