Syrian Foreign Minister Rushed to Beirut Hospital, update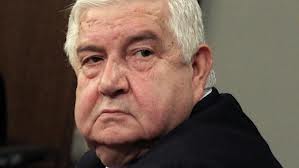 The Syrian foreign minister was rushed to a Beirut hospital and was undergoing treatment Friday for blocked coronary arteries, Lebanese security officials and a lawmaker said.
Foreign Minister Walid al-Moallem, who is in his 70s, is known for his hard-line stance against the opposition and is a close confidant of President Bashar Assad. It is not clear if the overweight al-Moallem has had heart problems in the past.
Al-Moallem was brought to the American University of Beirut Medical Center, according to Lebanese security officials, speaking on condition of anonymity in line with regulations.
Lebanese lawmaker Assem Qanso, who visited al-Moallem on Friday, told reporters outside the hospital that Syria's top diplomat is "in stable condition" and would undergo an operation.
"Some of his arteries are blocked. He will undergo an operation and God willing it will be good. It is not dangerous," Qanso, a close ally of the Syrian government, told The Associated Press in brief comments.
The security officials said that when al-Moallem arrived at the hospital, he was walking slowly. Officials at the AUBMC — which has treated several ranking officials from Assad's government in the past — refused to confirm that al-Moallem was being treated there, saying they give no such information to "third parties" but only to medial teams, the patient and family members.
Lebanese police and plainclothes officers were deployed outside the hospital in Beirut. Syria's ambassador to Lebanon, Ali Abdul-Karim Ali, was seen entering the facility earlier on Friday morning, presumably to visit al-Moallem but did not speak to reporters.
Al-Moallem led the Syrian government delegation to the U.N-hosted peace talks with the opposition in Switzerland earlier this year.
A career diplomat, he served as ambassador to Washington for nine years, starting in 1990 during Syria's on-and-off peace talks with Israel.
In January, at the start of Syria's peace conference in Montreux, Switzerland, U.N. chief Ban Ki-moon repeatedly asked al-Moallem to step away from the podium when he exceeded his time limit while giving his speech.
"You live in New York. I live in Syria," al-Moallem snapped at the time, ignoring Ban's appeal to conclude his opening remarks.
ABC/AP
Update: Al-Jadeed ( New ) TV reported that the Syrian FM has been admitted into the surgery room for an open-heart operation.