Russia Preparing for Iran-Style Sanctions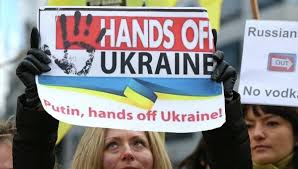 Russian government officials and businessmen are readying for sanctions resembling those applied to Iran after what they see as the inevitable annexation of Ukraine's Crimea region, according to four people with knowledge of the preparations.
Iran-style retaliation from the West, which would include freezing Russia's foreign reserves, banking assets and halting lending to companies, is being treated as an unlikely worst-case scenario, according to the people who asked not to be identified as the talks are under way. Officials are calculating the cost to the economy, the people said.
Some political leaders are hoping that President Vladimir Putin will moderate his response to the crisis, the people said. A sanctions war, with Russia retaliating against the West, could wipe out 10 years of achievements in financial and monetary policy, one of them said. Such escalation could erase as much as a third of the ruble's value, another said.
Dmitry Peskov, Putin's spokesman, declined to comment on the matter.
The Ukraine crisis triggered the worst standoff between Russia and the West since the end of the Cold War after Russian forces seized the Crimean peninsula. German Chancellor Angela Merkel yesterday said a round of European Union sanctions is "unavoidable" if Putin's government fails to take steps to ease tensions.
Obama Warns
President Barack Obama met yesterday at the White House with Ukrainian Prime Minister Arseniy Yatsenyuk and called Russia's incursion into Crimea a violation of international law. The president told reporters that, if Russia doesn't change course, the U.S. and the international community "will be forced to apply a cost."
Obama suggested that if Russia backs down there could be "different arrangements over time" for Crimea in line with Ukraine's constitution. "But that is not something that can be done with the barrel of a gun pointed at you."
'Get Ugly'
In Washington, U.S. Secretary of State John Kerry yesterday said at a congressional hearing that sanctions on Russia could "get ugly fast" if events justified them. Group of Seven countries called on Putin to "immediately halt" efforts to pry Crimea away from Ukraine, to reduce Russian forces to pre-crisis numbers and to allow international monitors and mediation.
The U.S. and the EU used sanctions against Iran to pressure it into negotiations over the Islamic republic's disputed nuclear program. While almost all U.S. trade with Iran was banned after the Islamic Revolution, the West started imposing stricter penalties on energy, ports, insurance, shipping, banking and other transactions in 2010.
U.S. restrictions also apply to other countries that trade with Iran. Limited relief was granted after Iran signed a temporary accord in November, though core oil and banking restrictions were kept in place.
The EU announced a three-stage sanctions process against Russia last week, starting with the suspension of trade and visa-liberalization talks. Stage two includes asset freezes and travel bans for as-yet unidentified officials and would be imposed if Russia boycotts international talks on a settlement. Stage three envisages "additional and far-reaching consequences" if Russia further destabilizes Ukraine.
Visa Bans
Britain hosted a meeting this week to compile a list of people who could be hit by sanctions. The U.S. banned visas for Russian officials and others it said were complicit in violating Ukraine's sovereignty, while Obama also authorized financial measures.
EU foreign ministers meet March 17, a day after Crimea votes in a referendum about joining Russia, to consider asset freezes and travel bans on Russian political and business leaders they consider responsible for instigating and profiting from the events on the Black Sea peninsula.
Russia's position is unchanged by the threat of sanctions, foreign minister Sergei Lavrov said March 4. Three days later, he cautioned Kerry against "hasty and ill-considered moves" that could hurt relations.
Russian Billionaires
The government is in talks with Russian billionaires and state companies about risks they face in case of western sanctions, the people said. The Kremlin needs to know which companies are most likely to be affected by fallout including loss of access to new foreign loans and facing margin calls, they said.
Business is not yet showing too much concern about the possible sanctions, according to three top executives who took part in meetings.
The EU, Ukraine and Russia are economically dependent on each other in many regards, so strict sanctions will be hard on all sides, Putin has said.
"In the modern world, when everything is interconnected and everybody depends on each other one way or another, of course it's possible to damage each other — but this would be mutual damage," Putin told reporters March 4.
The Russian economy's prospects in a "difficult global economic environment" was the topic of a closed meeting between Putin and senior officials yesterday in the Black Sea resort of Sochi, Peskov said by phone. Putin yesterday urged the government to ensure Russia's "ability to react immediately to internal and external risks."
The Russian government is also in talks with companies about speeding up state support in the form of guaranteed loans to reduce potential damage from sanctions, said two of the people. Business leaders have asked for a meeting with Russian Prime Minister Dmitry Medvedev to discuss the situation, the people said.
Medvedev's spokeswoman Natalya Timakova declined to comment on her boss's schedule.
Business Week