Israeli FM wants to reoccupy Gaza after rocket attack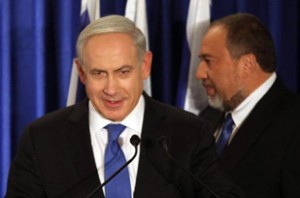 Foreign Minister Avigdor Liberman said Israel should resume military control of the Gaza Strip after a barrage of 41 rockets was fired from the Palestinian territory. No injuries or damage were reported.
"We need to reoccupy Gaza," Liberman said in an interview late yesterday with Channel 2 television. "I will oppose any limited military operation." Prime Minister Benjamin Netanyahu said Israel will respond "forcefully" to the rockets.
Israel's army said it fired artillery at locations in both the northern and southern areas of Gaza. The rocket-fire from Gaza was the biggest one-day attack in 16 months, it said. Israeli jets also carried out several air strikes on targets in Gaza late yesterday, though no injuries were immediately reported, according to local medical and security officials
The Iranian-backed Islamic Jihad organization claimed responsibility for the attack, saying in a statement it was in retaliation for the killing of three of its members in an Israeli air raid the previous day. The Israeli army said the men were preparing to fire rockets into Israel.
Gaza is controlled by the Hamas movement, which split from the Palestinian Authority in 2007 and took over the territory in a week of factional violence. Both Hamas and Islamic Jihad are considered terrorist organizations by the U.S., European Union and Israel.
Photo: Israeli Foreign Minister Avigdor Liberman (R) with Prime Minister Benjamin Netanyahu
Bloomberg