PM Salam may quit over ministerial statement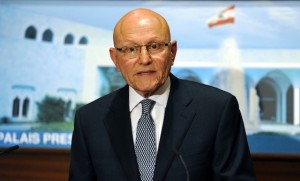 Telecommunications Minister Boutros Harb said on Wednesday that Lebanese prime minister Tammam Salam might resign on Thursday after rival parties failed to reach a consensus on the ministerial policy statement.
"I believe that Prime Minister Tammam Salam will take a political stance to end the controversy on this issue, and this stance could be a resignation or something else," Harb said following his meeting with Maronite Patriarch Cardinal Beshara Boutros al-Rai at the seat of the Patriarchate in Bkirki.
Harb's comments came after the committee charged with drafting the new government's policy statement failed again on Tuesday to agree on a draft that meets the demands of the rival March 8 and 14 camps and for this reason it decided to refer the issue to the cabinet, which will convene on Thursday at the Baabda palace to take the appropriate stance on the matter.
Labor Minister Sejaan Qazzi told reporters after the committee's tenth meeting: "Hezbollah is still insisting that the resistance be granted freedom of mobility and action away from the authority of the state."
The ministers were given a Thursday deadline to reach an agreement on the cabinet's ministerial statement.
"The deadline aims at pushing the ministers to agree…. because the problem is political, not constitutional." Harb added
Change and Reform parliamentary bloc member, Deputy Walid Khoury, ruled out the possibility of Salam's resignation after a long journey of suffering which he had overcome.
During an interview with "Al-Sharq" radio, the MP warned that" Lebanon is passing through a critical stage."