Hezbollah's Syria role risks eroding support base in Lebanon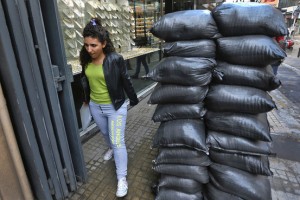 DAHIYEH, Lebanon —The streets of this Hezbollah bastion on the southern edge of Beirut once bustled with squealing schoolchildren, well-to-do merchants and bargain-hunting shoppers, a testament to the group's success in lifting its fellow Lebanese Shiite Muslims out of poverty and illiteracy.
But Dahiyeh's avenues are now largely deserted and many of its shops are shut or protected by sandbags, after a series of bombings in retaliation for the hundreds of Hezbollah fighters sent to neighboring Syria to fight for President Bashar al-Assad.
The fear and worry that pervade Hezbollah's Beirut stronghold now threaten to erode the so far unbreakable ties between the political and militant group's leadership and its implacable supporters.
If Hezbollah cannot supply Shiites with the same security and prosperity that fueled its emergence as a powerful force not only in Lebanon but elsewhere in the Middle East, it could lose political support, Dahiyeh residents said.
Since the start of the year, extremist groups supporting the anti-Assad insurgency in Syria have carried out seven attacks on Shiite neighborhoods across Lebanon. Four of the attacks have targeted Dahiyeh, killing 18 people and wounding 117.
It is Hezbollah's success in forging a more educated, Shiite middle class in a country where Shiites were traditionally disenfranchised that has helped fan dissent over its decision to fight in Syria. Now that Shiites have a significant economic stake in Lebanon, they don't want it squandered in a destabilizing war that harms their livelihoods.
"More people now have the critical thinking to say, 'No, I don't agree, we are paying too high a price,' " said a Dahiyeh optician who has closed one of his three shops and has seen his sales drop by 70% this year.
Hezbollah, or Party of God, was formally established in 1985, initially as a militia to drive out Israeli military forces occupying southern Lebanon. The two sides fought to a stalemate in a 28-day war in 2006, during which bombs dropped by Israeli warplanes destroyed much of Dahiyeh.
By then, Hezbollah was more than an anti-Israeli militia, having become a major provider of health care, education and other social services to the country's historically neglected Shiite community.
Hezbollah's rank-and-file say the loyalty the group has inspired with its military challenges to Israel and its social-welfare programs is now being frittered away by its decision to fight in Syria. A Hezbollah spokesman declined to comment for this article.
"In 2006, life was hard, I even had to close my shops. But I sacrificed for Israel, not fighting Syrians," said Khaled, a barber who says business has dropped 50% since Dahiyeh became the target of bombings and missile strikes. He now has to borrow money to pay for rent and food, he said.
In a speech last month, Hezbollah chief Hassan Nasrallah was on edge, his usual composure and charm replaced by a shrill defense of the decision to deploy fighters to Syria, which he said was to combat the spread of extremism.
Khaled and other Hezbollah supporters agree—to a point. Lebanon's Shiite militia has no choice but to fight in Syria after all the support it has received from the Assad regime and its ally Tehran. But for him and others, the logic of loyalty has grown threadbare.
For the first time, some Shiites are leaving Dahiyeh and returning to their villages in the south, their dream of achieving a better life by moving to the capital outweighed by their fears for their safety and their livelihoods.
Since the start of the year, rental prices for apartments in the neighborhood have fallen nearly 15%, and 10 families have tried to sell their apartments in the neighborhood and move back to the south, according to one real estate agent in Dahiyeh.
Lebanese once flocked to Dahiyeh to buy its cheap, relatively high-quality goods. Now the fear of bloodshed and traffic backups caused by Hezbollah and army checkpoints means a 3-mile drive that can take up to two hours. On arriving, visitors are questioned by plainclothes Hezbollah operatives demanding to know where they've come from and what they're doing.
If the fallout from Hezbollah's intervention in Syria weren't enough to worry about, there's the potentially landscape altering talks underway between the world powers and the group's patron, , over Tehran's nuclear program.
Like all minor players in big-party negotiations, Khaled and other Hezbollah supporters are concerned that they will be on the short end of any deal, causing them to wonder if the group's Syria foray might turn out to be a grave miscalculation.
"When we see Iran and the U.S. shaking hands we ask: is Hezbollah sure?"
By MARIA ABI-HABIB
WSJ
Top photo: Sandbags at jewelry shop in a Beirut suburb of DAHIYEH in January after a Jan. 21 car bomb in Beirut. Associated Press